BOMB contributing editor Joe Fyfe is a painter and writer who has had solo shows of his paintings in New York, Paris, and Ho Chi Minh City. He has written for Arts AsiaPacific and Art on Paper and regularly writes for Gay City News, Art in America, and Artcritical.com. Fyfe is the recipient of a Pollock-Krasner award and recently won a Fulbright Award to research contemporary art in Cambodia and Vietnam. He is currently living in Vietnam, where his solo show "Homage to Hanoi" is on view at the Ryllega Gallery. Following are excerpts from his journal about his experiences in Southeast Asia.
May 11, 2007
Breakfast this morning with Erin Gleeson, one of the good-looking young expats: she is 28 and has been here about four years, from the Midwest, where she went to a Benedictine college, St. John's, where the writer J.F. Power's taught. I have been very lucky to be able to have meals with attractive women wherever I go. This is all I ask. It has been suggested that I have a kind of open house and show my work one afternoon toward the end of my stay, which is approaching now. If I get some help from these people I will go ahead. Sopheap wants to bring his students by, too, so I may as well make an event out of it.
Various other people want to see what I am up to, like my yoga teacher, Isabelle, also 28, from Canada. She went to art school then switched to philosophy. What brought her to yoga, she said, was the attraction of coming to a philosophy via the body rather than being introduced to concepts intellectually and the kind of violence that brings as it enters the psyche. I later remembered that I came to abstract painting around the time I began doing yoga, and that my painting decisions changed so that they were dictated by the body: what my arm liked to do, what color gave pleasure, the drying behavior of the paint, how the activity I was interested in was direct and engaged from moment to moment, it wasn't result-oriented.

I came across this sentence in My Wars Are Laid Away in Books: The Life of Emily Dickinson:

"Her work in life would be to attempt and achieve an unprecedented imaginative freedom while dwelling in what looks like privileged captivity."

The phrase "imaginative freedom" stuck out of the text like something I had never seen before, but what was really going on was I thought, "Of course, yes, that's the point." This is why I can become so terribly suspicious of certain artists, De Kooning, Chuck Close, Ann Hamilton, the aforementioned Rirkrit, Matthew Barney, because I distrust the work, I think that some feat, something much closer to an athletics, in fact, a strenuous denial of the imagination, is taking place. There was an article some years ago where during a visit to the studio of Chuck Close they reproduced a photograph he admired where a Marine Corps division was formed into the image of an American eagle. I thought, "What kind of mind admires the regimentation of a large group of people into forming an image?" and thought of the oppressive feeling I had looking at Life magazine as a child, and how I was sure that Communist China must be a terrible country because you had to go out from your house on a nice day and stand in a stadium with a lot of people and hold up a card to make a picture of the leader of the country. Thomas Bayrle, who was one of the artists chosen for SOC, remarked in an interview how he loved those Mao stadium images, too. Here in Cambodia, over-sized faces of Prince Sianhouk and of the world's longest ruling Prime Minister, Hun Sen, dominate many public areas and small pictures of them are in every store and household. One of the things in the end that was most difficult about SOC, of course, was to be witness to the Vietnamese Government's insistence of curtailing the imaginative freedom of its artists. It's also what is most degrading about having to participate in a world made by politics and politicians - the lack of imagination.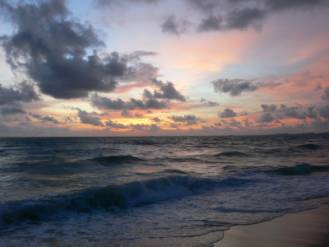 May 10, 2007
Another reason the Sixties continue to be so prominent in my memory is that I have been surrounded by a youthful population in Cambodia and Vietnam. One of the many ironies of Saigon Open City was John Lennon and Yoko Ono's presence via recorded media. Every conference was in the film room, and it just happened that the documentary of John & Yoko's bed-in was playing as people filed in and waited. For days on end that film rolled and "Give Peace a Chance," that imbecilic song, became SOC's unofficial anthem. It reminded me that the subject of much of the noisy self-promotion of the Sixties was the huge surge of youthful population and how it was going to be taking over eventually and that they were not going to wait. "We want the world and we want it now" and all that. It might have been the idea that Rirkrit was trying to instill in the politically repressed youth of Vietnam. "We've got to kick down the walls" was how he put it before he flew away.
This seemed an unfortunate association, after watching John and Yoko discuss current events with Dick Smothers and Al Capp and talk on the telephone with Canadian disc jockeys. John kept saying, "We're getting it together, we are going to get it together." I thought it was best forgotten. And I loved John Lennon. I still do. I loved his croaky singing voice and his clumsy openness, his curiosity, his sarcasm, his apparent lack of materialism, and the fact that he married a weirdo conceptual artist. He did what he wanted to do. But his "Bed Peace" tainted SOC, at least for me, as it did its own time. David Ross, in his patronizing SOC lecture, called their use of their celebrity to protest the war "cynical and practical." I doubt that they changed anyone's minds about anything. Civilization isn't moved forward by cynical and practical moves. This same impulse brought Nixon into office. He said he would abolish the draft, a very politically "cynical and practical" move, which won him the election, and then he did it, got rid of the draft, and effectively ended left-wing politics in the US.
The Sixties that I have become familiar with recently is one I never knew. I have been playing Ian & Sylvia over and over. They sound different to me now, after a few years of listening to Morton Feldman and Glenn Gould, than they would have earlier. Beautiful balance of strings and voices; very articulated; lots of space in the music. I only like a few songs, the best known ones: "In the Early Morning Rain," which is by Gordon Lightfoot, their own, "You Were on My Mind," "Four Strong Winds," and "Someday Soon" - one of the sweetest, most optimistic things I have ever heard. I don't know what got into me, I also bought an old Tom Rush "Circle Game" before I left town, with its rough-hewn masculine dignity, but he was no Tim Hardin, whom I adore. I don't play the Tom Rush like I do Ian & Sylvia, but I have been longing to hear some Bleecker Street guitar: chiming, lonely sounds, that's what Rush does well, but that's all.
The other Sixties I didn't know was Nick Drake, whom I have been listening to since the big Nick Drake revival a dozen years ago. I missed him when he was current, or just don't remember him. He sounds exactly like that time, or, more specifically, the way I remember feeling at that time when I was feeling good. "Saturday Sun," in particular, evokes precisely what it was like to be tripping with your friends all night and then morning arrives. This was a big theme during that period, Donovan was always singing "Dawn crept in unseen...,""Sunshine came softly through my window today...," but every time I hear "Saturday Sun" there is the surprise element in mimesis.
Hunterdon County, in western New Jersey, where I lived when I was in high school, was hilly and gently rural with lots of pre-revolutionary period stone houses dotted among the chicken and horse farms. My family was in the first wave of newer suburbanites. It was still a little too far for a comfortable daily commute to New York or Philadelphia. A number of my friends' fathers were airline pilots, or had the kinds of jobs where they were away for periods of time, or were locals, or bohemians, or had unusual independent businesses, like Walter Chandoha, who was an animal photographer, mostly cats. The Chandohas were a large family, some of them were my age. The one I spent the most time with, Enrico, was a great reader and also an artist. He once told me that his two favorite words were "kangaroo" and "glimpse." He died of AIDS about ten years ago. They lived in a big rambling old stone house and were very cool. If I heard Nick Drake it must have been there, or my memories of that place sound like the songs and the sounds of the music: winsome moments walking on country roads, skinny-dipping in the rivers, lying down in a cornfield on a summer night, hallucinating while the sky transforms itself into a warm womb.

May 8, 2007
Rainy. It has been steady since the afternoon and now in early evening it continues. Today is my beloved grandmother's birthday. She died five years ago at 99 with a smile on her face. I got her varicose veins and nervous stomach. I'll take her death, too. She was a gentle, agreeable person who got surprisingly waspish in her final years. My little sister took her to a restaurant a few years before she died and , she reminded my grandmother to lock the door behind her when she went to the toilet. "Why?" she growled "Is someone going to steal me?" A rainy Saturday when I was in high school, my best friend John and I asked her to drive us to the Philadelphia Museum, a good hour and half away. It seemed to her to be the most natural thing in the world to do that. I remember walking around the museum pretending to be an artist. Then the ride back, the rain so hard that the roads were flooded and we sat in traffic. As we began to move and the sun came out, The Beatles' "All Together Now" came on the radio.
I rode my bike through light evening precipitation, the streets quiet and uncrowded, to the Thai restaurant again. I wanted to read more New Journalism from the 1960s. I could only glance at the Hunter S. Thompson and the Michael Herr and the Capote excerpt from In Cold Blood: it was too knowing, too slumming, more contrived than I imagined it would be. It oversells itself.
I came across an interview with Viva that reminded me how much of the Sixties was about living as dirtily as possible, not cleaning your apartment or using sheets on the bed. I found living like a hippie upsetting; I was in denial of my fastidiousness. I dwelt among grime for a while (but never, oddly, with mice or rats) in Boston, where I went after high school. And I continued that way in a slum building in college, the plaster walls smashed in, spray paint everywhere. Even the other art school students said, "How can you live here?" Well, it was cheap. A few years later I escaped into a disastrous relationship that took a decade to get extricated from. I had found someone who shaved under her arms and had a tidy apartment and I dove in. A little superficial order seemed enormously appealing at that moment. It took a long time to learn cautiousness.

Eating and reading on the Sisowath Quay across from the river I am sufficiently callous such that I can ignore the dirty kids who want to shine my shoes or sell me a newspaper or a guidebook or just give their friend money because they have no hands...
Every night in restaurants all over town there are tables of twelve to fifteen people, Westerners, who are here with some religious or secular aid group, as well as many unofficially connected with a western government. College-age girls in twos and threes, their wallets overflowing with twenty and fifty dollar bills, are running around the shops in the evenings after spending their days in an orphanage, school, or hospital playing with the children.
A visit here looks good on their CV. It is part of their training for a degree in primary education or art therapy. Many of the people I have met here talk to one another about a good gig or a contract or looking for work, and this is all in reference to the aid industry that is such a big part of expat life. The money is good. Writing a "report," I am told, takes a day and pays three hundred US$. So I have stopped handing money out to these kids; let the relief organizations sort them out, or let them sell their papers, they certainly get enough attention from Save the Children and the rest. (Oh, I'm a terrible person.) Angelina Jolie contacted some local people to help her set up a relief organization for Cambodian children. She put a million dollars into a fund with the cooperation of some local officials. It has since disappeared. And oil is coming; five of the six holes drilled into the offshore shelf have come through. Heaven help Cambodia.
May 7, 2007
I have managed to make few paintings that I think I like. They have come, as usual, from a stay of execution - they are singled out from the many that have been destroyed. I always forget that this is how work gets done, some non-linear process of judgments and second and third thoughts and then what I am able to keep looking at as the days pass. Finding the saturated hues in colored cotton in the Oreissy Market has moved the paintings in an unforeseen direction - there is hardly any burlap, mostly felt and fabric. They are downbeat (somber, but lively) color-field paintings but made from cloth.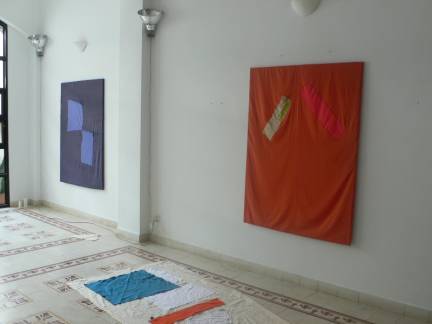 Like the color I see everywhere in the region, it's vibrant but with an absorbent quality. I first noticed this aspect of Southeast Asian color in Indonesia 18 years ago. It seemed odd that in a country with hot sun the people would be wearing colors like olive, maroon, eggplant, burnt orange, colors that were magnets for light and vibrate with energy but evenly and solidly, seeming to contain as much shadow as hue: the visual equivalent - penetrable, bottomless - of the sound of a gong. The saturated color as a reflection of the soaked tropical environment. I see this color in cloth when I stare at the little pennants made from sewing scraps in the yoga studio, the dark mustards and brownish purples of the mats and pillows in the temple where I meditate, the brown washcloths and the dark ultramarine and gray towels hanging out on lines all over the city. Even in the monks' robes, sultry orange, turmeric, and electric saffron, are striking, but like the other colors of cloth here, the hues somehow seem held suspended; they reflect light but hold the space they describe, too.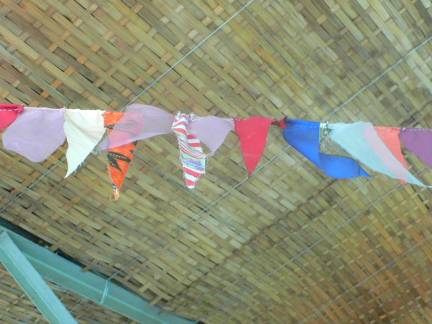 After nearly an hour of sitting still and staring at the patterned tile floor of the temple, I get to the point where I feel that I am engaged in a kind of self-hug: a good thing to be able to do to oneself when far away and spending a lot of time alone. The monks handed out literature on meditation practice. I have read very little of it. I try to follow my breathing and bring my thoughts back if my mind wanders - it does, constantly - and then I observe it, "Thinking," "Remembering," "Planning" (where I will eat that evening, mostly) and I notice that I am a wanting, desiring creature. Similarly, during yoga, as soon as I strain I start thinking of something that was done to me years ago that I am still angry about, or memory drifts back to my adolescence in the country, mostly one of those two things.

Although I am permanently alienated from the Catholic faith that I was raised in, some of its old culture, like Gothic art, especially stained glass, has become a personal touchstone, as has the abundance of Catholic-inspired writing from the last century: Waugh, Greene, Mauriac, Bernanos, Bazin, Powers, Lax. I have been reading Thomas Merton's diaries. He really gets cranky in them. Great stuff:
As far as I can see what I abandoned when I "left the world" and came to the monastery was the understanding of myself that I had developed in the context of civil society - my identification with what appeared to be its aims. Certainly, in the concrete, "the world" did not mean for me either riches (I was poor) or a life of luxury, certainly not the ambition to get somewhere in business or in anything else except writing. But it did mean a certain set of servitudes that I could no longer accept - servitudes to certain standards of value which were to me idiotic and repugnant and still are. Many of these were trivial, some were onerous, all are closely related. The image of a society that is happy because it drinks Coca-Cola or Seagrams or both and is protected by the bomb. The society that is imaged in the mass media and in advertising, in the movies, in TV, in bestsellers, in current fads, in all the pompous and trifling masks with which it hides its callousness, sensuality, hypocrisy, cruelty and fear. Is this "The world?" Yes. It is the same wherever you have mass man. The basic pattern is identical in Russia, the US, Germany, France. The materials and appearances differ, and in Western Europe perhaps the cut is a little more sophisticated. But it is the same suit of clothes, and the same pair of ready-made pants, the same spiritual cretinism which in fact makes Christians and atheists indistinguishable.
May 6, 2007
Sunday morning. Another wedding in my neighborhood, this time in a particularly ornate tent, with Angkor-inspired Styrofoam reliefs at either end and lots of electric violet velour bunting, has been set up around the corner and the three-piece electrified band has been playing between breaks since early morning. It sounds more like croony Cambodian wedding music than chronic bass-beat stuff, so it's close to being pleasant. Now that I have calmed myself into my residency I am overwhelmed with the sensuousness of the environment. I feel most deeply tucked into the city when I am riding my bicycle in the southern end of town in the early evening; it's when Phnom Penh's twin strands of the lush and sinister feel most entwined. It's dark, and the side streets are unlit, save for the lights of the private houses behind their high walls. The vegetation overhangs on both sides, and you can hear the murmurs of the clubs coming to life in the distance. The uniformed gatekeepers hang around outside the white painted walls smoking alone or talking in groups with friends who crouch or lie in strung hammocks under the trees. I pick up scents of marijuana and fried fish, flowers, perfume, exhaust and dirt.
Up in my own neighborhood there are various brothels nearby that become more present when the other businesses begin to close up after nightfall. The nearby Heaven Hotel has young women sitting quietly in dresses on either side of the entrance. You often see these women made up, getting a ride to work on the back of a moto by their husband or boyfriend, who very likely might be working at the same place as a security guard. I watched the street life during the day as I had my bicycle fixed down the street. I had to use my extremely rudimentary French with the father, whose young sons were the repair crew. I also use French with the older man who makes my stretchers, around the corner in the other direction by the National Museum's dark red painted walls.
Last night there was a film evening at Meta House. Nicolas had invited me to come over early to view his copy of a film made by the Royal government in the 1960s to promote Cambodia's modernization. The beginning sequences showed some of the modernist architecture here. Phnom Penh was a stunning city at a time when Bangkok was all canals and shop houses and Singapore was a malarial pit. (Paul Theroux's early novel that is more like a collection of stories, The Consul's File, takes place in Singapore during that period and is very good on the feel and look of it.) Also remarkable was the extent of the building program, including modern airports in all the provincial capitals. Sihanouk did have extraordinary energy, directing the film, writing music, personally designing many of the interiors of the hotels he had built, all this in a strenuous campaign for donations from China, Russia and elsewhere to gift the country with factories, bridges, hospitals. Saint-Exupery modeled The Little Prince on Sihanouk, apparently. One of the discrepancies was the art school in a modernist building where students painted from a still-life composed of traditional Khmer objects and fabrics in a rigidly academic painting style.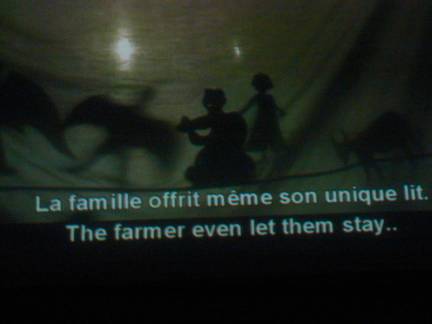 The feature film of the evening was made in Cambodia. It was a black and white narrative called "Two Angels Traveling", directed and photographed by K.M. Lo. It was in Khmer with French and English subtitles. The two angels, one younger and one older, (played by Sopheap Pich), come to the countryside and find themselves wandering among grasslands, looking for food and shelter. This is followed by a very beautiful sequence where the story continues, enacted by a shadow puppet theatre. Then the film returns to follow the younger angel going to the city and being seduced by the devil's sister who he meets near the Central Market and follows to a billiards parlor. She later brings him to meet her brother, the devil, (called D); the younger angel waits in their stolen car while they knock off a convenience store at gunpoint and then he witnesses their subsequent cocaine overdose.

May 5, 2007
Susan Sontag's last essay, "Pay Attention to the World," is where I came across the definition of the post-modern being the anti-modern. She writes that it is a "...bullying reaction against the high modernist achievement, which is thought to be too difficult, too demanding of audiences, not accessible (or "user-friendly') enough." Later in the essay she goes into the "modern' as standardization and homogenization. Sontag calls it, post- or anti-modernism, as a "system of maximum diffusion", and then goes on to the project of literature, an "...invitation to develop a kind of inwardness that resists the modern satieties."
Modernist buildings, or anything modernist that I like, contains this invitation to develop a kind of inwardness. It is so strange to come across a different kind of invitation to inwardness as well as the atmosphere to drive it out of oneself in such close approximation in Cambodia, where I can go to a temple and meditate and then be blasted with Tom & Jerry DVDs on a bus. Sontag again: "Culture implies barriers (for example, linguistic), distance, instant access; the leveling of culture - and by its own inexorable logic, the abolition, or revocation of culture." She has shifted from modernism to "the modern' as in the "modern world".
The phrase "revocation of culture" reminds me of my time volunteering for Saigon Open City and spending two weeks observing Rirkrit Tiravanija at close range. Towards the end of that time there was a conference that Tran Luong held, where artists from different generations discussed what they did. Rirkrit was more or less pressed into talking and confessed - not without a touch of impatience - that he didn't like to think like an artist, that he had a show and that he liked to cook, so he cooked for people in the gallery space.
I hadn't paid a lot of attention to him, but I started thinking about his work that I had seen, like the architectural wooden box at the Whitney biennial with the terrible band playing in it, the reduced-scale version of Philip Johnson's Glass House that he situated in the garden at the Modern for kids to play in ( a not very subtle critique of Johnson vis-ˆ-vis his influence on the Modern); his recreation of the proportions of his apartment including the gas and running water, that was at his gallery in Chelsea (which was not completed in time); the theatre piece he directed at the Lincoln Center festival where all the Thai performers fought with one another through the performance; and finally, Saigon Open City, where artists came from all over to an extravaganza that didn't quite happen. It all seems to be an inside job of negating artistic intention, a kind of revocation of culture.
He likes to set up an ambitious situation and then let it mess itself up and not work out. There are aspects of this that I like: I like the off-handedness of it, the lack of hierarchy and of preciousness, but I hate the way the project depends on his charisma, and his abhorrence of order and simplicity and trying to do one thing well - of believing in something and committing to it. The thing that's so interesting is that it's remarkably similar to how de Kooning operated, with a gang around him, arguing for his point of view, throwing out lots of ideas amid a lot of chaos, never being able to finish a painting. De Kooning made a major contribution, though, as Deleuze would say; he invented a number of concepts (in painting), but underneath all his charm and his aphorisms and speedy brushwork, he's the least radical of his peers and the original ironist of painting. And a "conservative" painter, Fairfield Porter, understood him best, as did an ironist, Warhol. This sunny, malicious attitude also reminds me of Ronald Reagan who also floated a kind of bonhomie above the destruction he was responsible for in his constant state of half-distraction.

Last night was Sopheap's opening at Sala art, which I will review for Art in America. He told me that Galerie Quynh offered him a show. Perfect. There was a great downpour that went on from about five until six last evening and when I arrived at the gallery at seven-thirty, the air in the third floor gallery space, which had a front balcony that opened to the river, was cool and fresh. I stood around and watched the attractive ex-pats chat it up and did the same, (as Bob Dylan might say), then went off and ate alone at a Thai restaurant that faces the river, a place I keep returning to even though the food is nothing special. I had forgotten to bring anything to read and I rooted around in their old magazine rack and found an anthology of The New Journalism from around 1971, edited by Tom Wolfe. The inside stamp placed it as originally part of the library at the University of Cambodia.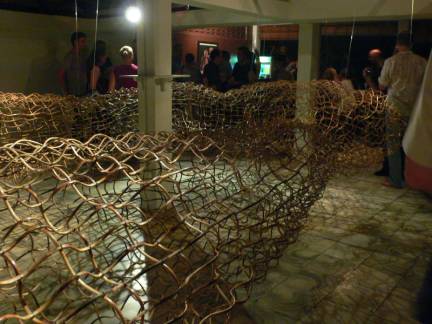 This was an example of one of curious and involuntary bursts of memories that I have experienced here and in Vietnam, that has been most likely caused by the experience these countries had of being flung from the 1960's into the present over a chasm. The cosmopolitanism, i.e., good educations for the children of the elite, bell bottoms, Oldsmobiles, et al, that was part of life in Phnom Penh and Saigon forty-odd years ago, was interrupted by war and mass murder. (I am revealing my ethnocentricity here, as I am equating these countries relative suspension of contact with the west with an interruption. Let's just say evidence of contact with the west and let me off the hook for the moment.) The way it affects me on a day-to-day basis is that my own memories from this time, when I was an adolescent, have kept coming up, triggered by incidences, like this book from another time, that I am hardly aware of.
The index had excerpts from In Cold Blood, two pieces by Hunter Thompson, one by Terry Southern, etc. The only woman writer was Joan Didion, a chapter from Slouching towards Bethlehem that I had read previously about a woman from the San Bernardino valley who had murdered her husband and her lover's wife. Reading the essay this time, it was more obvious that Didion was using Hemingway's flowing sentences and Chandler's velvety biting attitude to narrate. I was experiencing her exquisite prose before it could be identified as uniquely hers. The economy and the precision were there already, as was the purposiveness: it had to be written so she could understand how she felt about something.
May 4, 2007
In a month I will be in New York, again packing, to go away to another country, Switzerland, for another three and one half months. I returned from Ho Chi Minh City yesterday. I took a bus across the border the day before in order to renew my Cambodian Visa. The bus left at nine a.m. from the bus station in the Central Market. The market is another curious Phnom Penh structure; built in the 1930s, it is a huge mosque-like, bleached-yellow cast-concrete dome with Art Deco elements. I have yet to go inside; every time I come near the building I experience a sense of dislocation. It looks awfully stuffy inside, out there baking in the heat. It's mirage-like, unreal and maybe too real, too.
The past thirty days here have most likely been the first time in years that I have been in the same place for as many days. Despite the discomforts of the bus ride, which I have done a number of times already, it was a welcome change. The first three hours of traveling, between Phnom Penh and the border, are trying. The road is being repaired and there is a lot of stopping and starting, lurching, and bouncing around. On the return trip it got so bad that my laptop bounced right out of the overhead rack onto the floor. They show Tom & Jerry cartoons or James Bond or a film that I have seen on the same bus a few times before, a B-Movie version of Kill Bill, it features babes with all kinds of martial arts skills bouncing around on speeding boats, jumping from airplanes, in outer space.
I can only conclude that my time at yoga class, meditating, accepting that there is only so much I can do about any given minor crisis, etc., has calmed me a bit: I did tell the bus driver to turn the sound down once on each trip, and did feel a few moments of frustration, but I didn't get to the point of despair and feel that I was trapped in hell. Someone that likes to move around the way I do really needs to be able to let go of his need to control whatever environment he has found himself in. These past days give me hope that that might be beginning to happen. I had a conversation with some young tourists. They were having the time of their lives. If I was going back to my office job in Brisbane next week, I would consider that bus ride a rather magnificent experience too.
But you do get to see the flat Cambodian countryside, and the traditional wooden houses, all of them raised one story above the ground on stilts. Usually the body of the house is painted one blue and another blue or a light green is used for the shutters. Both blues are similar to Shaker blues, complex and elusive. They stop before the border and there is a different country house in Vietnam, right on the ground, unpainted. There is much more color in Cambodia, generally.
But this time, all of Ho Chi Minh City's streets heavily marked in Bright red and yellow. Everywhere were red flags or banners with either a large yellow star or a hammer and sickle. The previous day was a holiday, Liberation day, following on the heels of May Day. There is still the momentary pause at the sight of a progressive field of Communist banners. It's a very old feeling. The morning that I entered first grade, in 1959, the nun began class by frightening all of us six-year olds into quiet panic with a story about how the Russians shot Catholics as they came out of church in the morning. A few years later came the Cuban Missile Crisis. It was ingrained in me that communists were scary. Now they are just corrupt.
Who would think that these tenacious Vietnamese Communists that drove out France, the U.S. and China over the latter part of the last century, and reunited their own country, had become bullies that are easing barriers to open domestic markets to global capital as quickly as they can, enriching themselves as they go? It is more apparent when one observes the changes in this society that consumerism is the new opiate of the people. In the U.S. it is much closer to the national religion and is so caught up in national identity it is not as easily distinguishable.
I am also much more conscious of my own material well-being in Cambodia than I was in Vietnam. I can feel myself being observed in this way, as a privileged foreigner, an object of curiosity and envy.
The twenty-first century is about Muslims who refuse to enfold themselves into consumerist culture, or have not been invited to the party, and those new economies who are subject to, as Adorno puts it, "...admonitions to be happy..." that are "...part of the mechanism of domination [that it] forbid[s] recognition of the suffering that it produces."

Gilles Deleuze isn't an anti-consumerist at all, but does not believe in travel. What's the reverse of the aphorism? Travel narrows. But in the case of Americans, who don't travel enough (though I just read that 12 million new American passports were issued last year), that it might stop them from using the military so readily if they visited some of the places they are so sure need to be bombed. I remember Mo Udall on television on the eve of the first Iraq war. He was outraged and sad that the US was doing this. He mentioned a bar he knew in Baghdad, and friends he had there.
April 30, 2007
Vanna has been out sick for a week and I am happy she is returning today. As much as Mr. Youen and I have tried to keep on top of the house, I am a little disgusted by the rat scat and guano that seems to have collected. I knocked a piece of something off of my exhibition catalog this morning and that did it. I had a dream last night that I was doing some plastering work (a job I used to do) for a woman client, I can't remember who it was in the dream. I was naked. I kept saying, "You know I don't mind doing this, but have you seen my clothes?"
Flakes of plaster fall off the walls at night; I don't think it's from the visiting rodent. I have come to the conclusion that the rat just comes in at night to eat. There is no place for him to hide, so he just visits and digests and leaves by morning. I drill into the plaster walls of the studio in order to hang the paintings to look at. The nakedness and the not minding working must come from this feeling of vulnerability that I have become somewhat accustomed to. Working in the studio has been engaging and there is never any trace of the rat. I see a good-sized gecko crawling through the fabric on the floor sometimes, but he is welcome.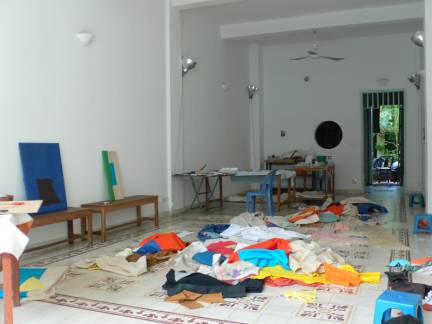 Quynh Pham and her husband Robert Cianchi are visiting from HCMC for a few days and we are going to Sopheap's studio this morning. They told me at dinner last night that Saigon Open City may have increased the amount of censorship that is now taking place in Vietnam by increasing the Ministry of Culture's awareness of how much independent work is going on.
I also heard more about the market for commercial paintings, which I have never understood. Apparently the new middle classes of Singapore and Hong Kong collect these Vietnamese paintings of peasants in rice fields and water buffaloes to the point where the demand has run the prices up. Artists are producing several thousand of these paintings a year and they sell for US $5,000-10,000 each or even more. There is lots of money being made.

In Denis Donoghue's introduction to The Stories of J.F Powers, he describes Powers as a writers' writer, with the clearest definition I have read of such a thing: "...meaning that he was an artist too good to satisfy the most casual reader, but he was also a reader's writer, if we assume a reader who thinks of fiction as intelligent, rather than low entertainment." Well, switch around the sentences a bit and you get a pretty good formula for what's going on in the galleries: "...intelligent, low entertainment able to satisfy the most casual observer," which is pretty much identical to what commercial culture is up to. The day before I visited Olympic Stadium there was a huge rally organized by the Nokia company to introduce their new cell phone. There were thousands of people there. Apparently Cambodians are crazy for cell phones and companies that can't sell their more expensive models, even in post-industrial countries, can sell them here. But thousands of people attending a rally for a new cell phone?
April 29, 2007
Late afternoon, a storm brewing. Up early this morning, Sunday, to take a tour of the Olympic stadium, perhaps the centerpiece of the post-independence Cambodian building boom of the fifties and early sixties. Most of it was the work of Vann Molyvann, including this. Molyvann also designed the "Buuding" originally known as the Bassac River Project Houses. (Nico Mesterharm of Meta House told me that when the Vietnamese came in, they located all the artists, the traditional singers and dancers, to the "Buuding" and over time it also became the residence for many of the city's drug dealers and prostitutes and the mix caused a lot of resentment and trouble.) The central building of the stadium complex is a cast-concrete brutalist hulk, with odd Khmer touches such as some ornate vertical wands on the roof and a medallion - a very weird, endlessly interesting building. Folded metal inserted corners break up the concrete reverse buttresses - they hold up the building like a log-carrier - and there are steel railings running in and outside with fiberglass rectangular panels, all still intact after fifty years.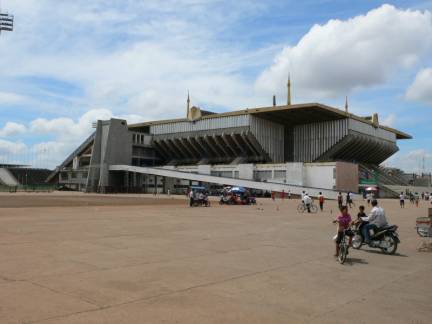 This building also holds the grandstand for the stadium, the rest of which is a delicately embanked like an ancient amphitheatre. At its summit is a long, high march of flagpoles and three huge concrete roofs that float between the upper pavilion and the pool on the far side of the hill.
Molyvann used aspects of the construction of Angkor, including the method of mounting the structures on high mounds of earth above the landline. A moat, like Angkor, again, was dug around the perimeter and this provided the landfill. There were alterations in the early nineties by corrupt contactors that took away from it, such as the Khmer-style steps that ascended the stadium hill that were plastered and whitewashed. The aged concrete would have approximated old stone by now if left alone or properly repaired.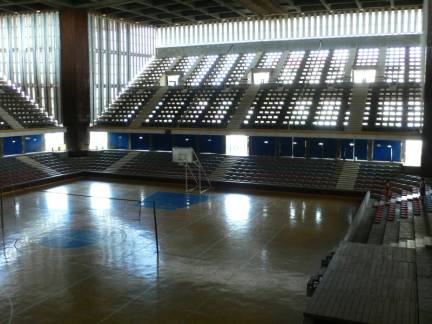 The interior of the main building held the basketball court, and this was where the folded metal panels made sense. They conducted air and light in such a way that it was cool inside and there was good visibility without any brightness. It was a little like being inside a colander. The site continued to open up after an hour. There was a remarkable drainage system that surrounded the building, kind of like a mini-moat made of concrete and inlaid round stones, which ran beneath the ramps where the spectators entered and exited the interior. From every perspective and angle the building continued to articulate itself. It was an aesthetic experience: after an hour and a half I found myself standing around silent and slightly openmouthed and then reluctantly leaving.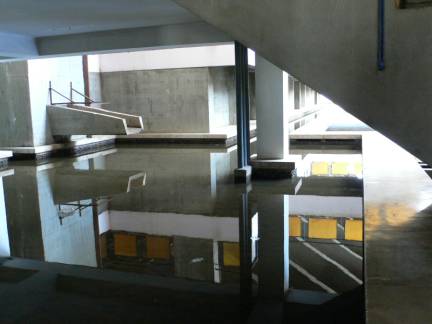 The government is not aware of what it has, and is closing a deal with the Vietnamese to build a new stadium and the plan is to tear down this one and build housing on the property. Helen Grant Ross, one of the authors of New Khmer Architecture, told me that she thought it was as significant a piece of architecture as the Sydney Opera House.

I have been bringing home downloads off the internet every few nights, even going back through the London Review of Books and printing out old reviews, including one from 2002 by Dinah Birch (I am up to B) on an Anita Brookner novel, one of the few of the 23 of her novels published that I haven't read, called The Next Big Thing. The title of the article is "Wintry Lessons," and the mistake the writer makes is in thinking that Brookner is trying to teach us something about acceptance. At one point she gets it right, when she writes that, "Given the relentless bleakness of her vision, why should Brookner choose to revisit it so regularly? Partly because its graceful patterns absorb and please her, for her severe taste conceals an expansively Jamesian aestheticism."
Birch concludes by writing that "...[he focus on static values of discernment and taste shuts down coarser but more warming possibilities....Brookner's fine novels sometimes suggest a need for lower standards." This is another way of saying that she is not anti-modernist enough.
It always gets me how this novelist is misunderstood. This highly restricted, exquisitely controlled, bleak world of her books comes from a kind of aestheticism that has found its avenue. She is very much the Baudelairian, in that she looks for the place where the imagination can expand, this can be in unusual places, including the shuttered life of the efficient minor scholar. Birch again: "Taken as a whole, they [her books] are an exercise in the elimination of illusion, with all its crude and vivid distractions." Birch mounts a defense of "...cheap chocolate, chips (with tomato catsup), American sitcoms, furry pets..." Perhaps Brookner writes for people like me who are deathly sick of the constant incursions of Capital's crude and vivid distractions into one's intimate moments. Television, that she brings up and I like, is just an atmosphere in which either traditional narratives or spectacles are suspended. The composer Robert Ashley has said that he watches television several hours every day. But his work is not a defense of television; it's an abstraction of it. The film "Society of the Spectacle," based on the book, is another early seventies film compilation that tried to demonstrate how we have become an image society. It looks so old-fashioned, now that imagery is coming at us from all sides in just that way. We are used to it.
April 28, 2000
Saturday morning. What happens to the days? The nearest Wat, Sarawan, is just 50 yards away. Sometimes there is a Buddhist song ringing through the neighborhood over a PA system, but one can never predict when it will begin or end. The city came around and pruned two trees that hung over the outside wall, where the poor are gathered in their hammocks among garbage, now with less shade. There seem to be groups of the most indigent living outside of many of the Wats around the city.
I am always up early and after a short time of reading and coffee, I am onto what needs to be done before I get to work, but I hardly ever get in the studio before three or four, though I have been cruising past it all day, glancing at things, turning them over. But late afternoon is prime time. Yesterday, two hours of banging on sheet metal came through the back, enough to hurt one's ears. It started earlier and I managed a nap through it, but couldn't think through it later, as much as I tried. Mid-evening brought the first major rain, which went on for close to an hour and was near deafening, it pounded on the house, on the metal over wood roof, on the huge leaves in the back. Sopheap had said he likes the rainy season because you can't hear your neighbors.
Later I saw the rat climbing the steps up to the bathroom, his ass bumping behind him as he calmly ascended. It was time to go to bed and I thought of him settling in, just one level away from me. The first floor has been cleared out well enough so that there is nowhere to hide. There is poison distributed but nothing has been even noticed. I got the long bamboo pole and from a comfortable distance I went about banging it all over the bathroom area, creating a hellish racket, and ran it behind the trunks, which rooted him out. He quickly scuttled past me and back down the stairs. My heartbeat was up, and I went back down and beat the corners and under every counter and chair to chase him further out but he was gone. He may have returned in the night. I take his visits, or his idea that this is his home, very personally, because he seems more comfortable here than I do and he's the reason that this is so. If I know rats at all, that scary thrashing noise I created last night will not keep him away for long.

April 26, 2007
Dinner with Sopheap last night. He came by the studio in the early evening and we went to a very good Korean restaurant away from the river. There were a number of clubs in the neighborhood. I suspect that Phnom Penh is quietly taking over a lot of Bangkok's sex business. I told Sopheap that it has taken some time to adjust to living here, even temporarily. He laughed and said, "Welcome to Phnom Penh."

I had wanted to explore the area around the "buuding," as it is locally referred to, a variation on the building. It is a long modernist apartment complex that was built during Sihanouk's rule, the years after independence, from the late fifties until the years of the Khmer Rouge. A lot of great brutalist architecture went up, which I will soon be investigating, but I wanted to first look over how this one block had been transformed over the years. It had its own ragged magnificence, with plastic pipe running up the sides, some apartments obviously well-cared for, and others just hanging on.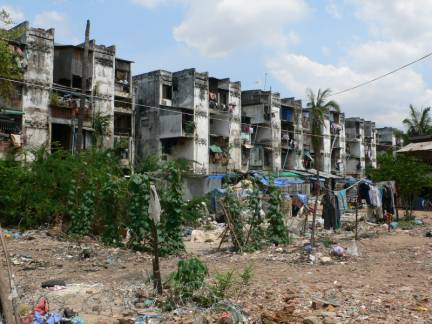 An improvised shantytown surrounded it, beautiful in its way, that had small plots of land laced with razor wire, almost like gardens of it with multi-colored plastic bags interlaced, that must have been placed there so that no one else would build on the spot that had been reserved. The complex was very close to downtown and the neighborhood it was in was not as dicey as the building itself appeared to be. Apparently the "buuding" is also the home of some of Cambodia's best-known hip-hop artists. The people that live there seemed interested that someone would want to take pictures of the place.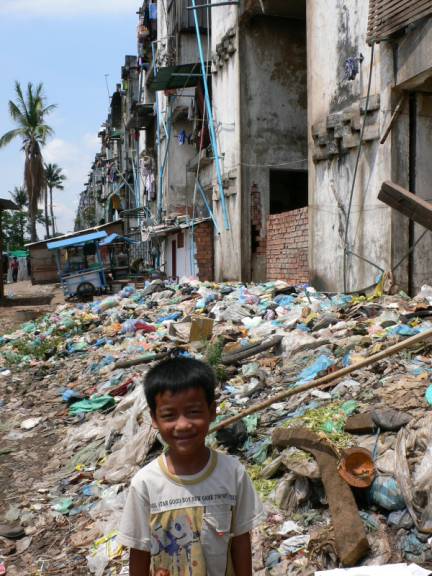 Through the endless complaints I register, and the other various disturbances, my work seems to be coming along. I can order a cheap stretcher around the corner and it will be ready the next day. The larger ones are about five dollars. There are lengths of cotton in moody and vibrant colors available in the market for about a dollar a yard. In the middle of all this I have to have my visa renewed. The American embassy here and did not give me the right instructions as to how to enter the country and I may have to leave and then come back in or pay a large fee for a visa extension. This could have been avoided by Fulbright simply issuing an instruction sheet, but there appears to be no oversight so everyone involved seems a little dazed and forgetful. This has been my general impression.
April 25, 2007
I had packed up the studio Sunday night to let Mr. Youen finish repainting. Nothing could be done during the evening blackout, and when the painting was finally finished yesterday, I found that I had distractedly tossed the bulky power plug that serviced my ipod speakers into a small container of water before I threw a dropcloth over the tabletop. Over the next two days the submerged plastic case surrounding the ac/dc convertible power supply drank itself full; it was ruined and this rendered the speakers useless. I had been enjoying a lot of material loaded onto the ipod that I had forgotten was there, such as a recording of solo compositions by Anthony Braxton. I just switched the Search from Albums to Artists and all kinds of stuff turned up.
I rode the bicycle through the dusty streets, now full of activity on a weekday after the holiday. It was the middle of the day and the heat that I had previously absorbed contentedly had increased to where it seemed threatening, even the energy of the traffic was manic, half-delirious in the oppressive sun. Over on Monivong Boulevard, the wide, busy commercial thoroughfare that runs through the western end of the city proper, I let myself be sent from one electronics supply to the next. The speakers are made by some other company - Logitech - and are not yet distributed here.
Proceeding to my appointment at the SOS clinic, I was given antibiotics. The nurse showed me how to keep my wound clean, how to dress it and how to apply the topical ointment. The she showed me the scar on her leg from her "Moto-burn," as they call it, and reassured me that she took the same antibiotics, etc., and that I would be fine.
I asked Doctor Cousins, who I have gotten to know, about using malarials for a trip to the southern islands. He told me that they were expensive and undependable, and that Malarine, the most common one, can cause psychosis, and that they had two cases brought on by its usage this year. Also they get several cases of Dengue fever every week, for which there is no preventative dosage.
The third season of House, of which the first twelve episodes are available in Cambodia, has been gripping. I while away the hot afternoons and late evenings catching up. The counterfeit DVDs don't have outtakes and actor interviews, but they are cheap. Isn't the reluctance of developing countries to obey international intellectual property laws a just revenge? There are two prices for most things here; sometimes they are listed that way too: Cambodian prices and visitor prices.
A Cambodian wedding most often involves setting up a big canvas open tent right in front of the house, even if the house is on a busy street. The cars just drive around it. I noticed that last Thursday and Friday they were erecting one just down from my house, and it was long, it went on for most of the street. It must be a big wedding. I thought, this will go on all weekend, the noise will be endless, and they will celebrate all night. Early Saturday morning a generator started up at about five-thirty a.m. I came out to go to yoga an hour later. Catty corner from the tent, hoses and power cords stretched across the road where seven or eight huge iron woks were boiling away over open flames. Some were cooking rice, others chicken, some were deep frying. The traffic went by, and men were already filling plates high with food and running them down to the tent. I guess they were the caterers. I came back at about ten-thirty and the cooking gear was already being packed up. The tent was partially taken down and the street was filled with trash and paper, as if a ceremony had taken place. I had missed the whole thing.
After last night's meditation and dinner I returned to the house, and while reclining in front of the television, saw the rat cross the room again. Mr. Youen and I had turned the place over looking for him, put out fresh glue traps and boric acid by all the exits and entrances, but here he was looking fresh as a boulevardier, crossing my room, oblivious, sniffing his carnation. I went to bed, unnerved, with Beckett again: ("One who is on his back in the dark.")
Of the two fans installed in the roof, one creaks all the time. One night it woke me. I thought it was a moto being started up. They are non-mechanical, just spinning in the wind to release air from the house. This last night it was driving me crazy: it would not stop its steady creaking. It is so far up, it seemed there was no way to stop it, other than by crawling up on the steep roof itself. I got out of bed and started throwing plastic hangars up at it, trying to jam it. Then I remembered there was an extra long bamboo pole in the backyard. I brought it up stairs, past a few veering bats I must have awakened, watched the geckos shoot up the walls (I am beginning to feel like Dr. Doolittle) and grabbed a piece of foam rubber that the owner had on one of his trunks. I opened up the block of foam and stuck it on the end of the pole, and then reaching up and out from the landing, I lodged the foam rubber between the spokes of the squeaking fan and jammed it to a stop and to silence. I could hardly believe it; I still look up there admiringly.
Today I hear a rock and roll band beginning to play on the next street. It is the devil's music and the devil is a moron. I don't know what tonight will bring but more likely it will be more loud idiocy.
April 23, 2007
Monday. Comes the Charming Evening. What does one need for happiness really? a bowl, a few pieces of Fruit? Sometimes I sit in my Studio at dusk and watch as My paintings are absorbed by the mysterious Darkness. Trying to remember some of the lines handwritten by the artist beneath the reproductions in a catalog of Giorgio de Chirico's late work I once owned. I remember I was still in art school in Philadelphia when the exhibition was held at Huntington Hartford's Gallery of Modern Art on Columbus Circle. At another time, later or earlier, was the first exhibition (and catalog) of Robert Smithson's drawings. It seems to me that the De Chirico exhibition might have been drawings also, or at least included some. Both shows were landmarks, ahead of their time.
Friday night I had dinner with some of the young expats. We sat around a table at a French restaurant, which was not up to the standards of the ones I know in Saigon or Vientiane. It didn't go so well: either they were just young, most of them could have been my children, had I fathered one when in my early twenties, or they were defensive because they had been told something about me and were projecting, or it was just a mismatch. At one point someone we all knew came up and one of them said, "Kind of a wanker." We talked this over for a while: the person in question, in my opinion, was affected, but sincere, hardworking and knew a good deal. More conversation, more time passes, another name comes up, I say, "Well, speaking of wankers," and a slight hesitation around the table, then some discussion in disagreement. Me again, "I've seen what he does and I wasn't impressed." More discussion, him predating any of them in the area, or something, then I said, "Well, I got a negative impression." And one of them said, "We are clear on that." So then one of them asked me how old I was. It was all very odd. I went home thinking, "No friends there." And then, what does one need for happiness really...
The last few days have been so calm that I am beginning to feel that I might miss my time here later. This happens so often, thinking back on a time when I was distraught or thought that I was unhappy and looking back, that, emotions aside, it was a wonderful period of one's life.
I made the first two drawings that seem to be worth saving and I have a few interesting medium-sized paintings. I just brought two stretchers home that are about as big as me. I have been watching the banana tree in my backyard bring forth its fruit. For days a giant purple pod, about eight times the size of an ear of corn at full ripeness, has advanced from the center of the plant. It has a bright green neck as wide around as the hitting end of a baseball bat, but of a consistently even thickness. It follows the pod in an arc, as the pod falls onto the lower leaves. It has opened into consecutive sections of hanging bunches that will now begin to grow, I presume. Looking up from reading at this thing is like acknowledging someone in the opposite deck chair on board a ship. It's a presence I am passing through the odd journey of this house with.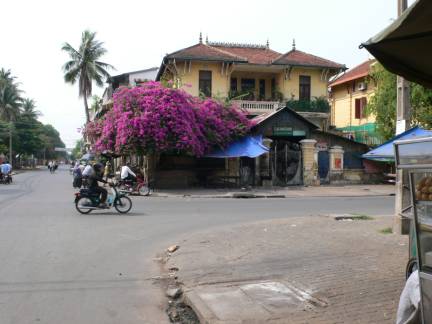 There always seems to be something to do, either with laundry, or the housekeeper, or Mr. Youen painting the studio, or when to take the laptop to an internet place. Then there is mediation, or the yoga schedule. I had planned on seeing more of the country, but unless I keep to this dull life, I cannot hope to get any work done. Every time I go out on the bicycle the place gets richer. I have been talking to a couple from the Netherlands who have spent their lives doing various service works for NGO's, first in Africa then here. They also teach the Kundalini Yoga class I go to in a few of the early mornings. I heard about the wood dwellings, the more traditional houses that are disappearing. What else is new: 1. The guy that put the roof fans in is coming to fix them. If the wind picks up at night they squeak and croak like mad and wake me up. 2. My burn is showing signs of infection and it looks like it's off to the doctor again.

April 22, 2007
I came back from dinner last night and Mr. Youen was sitting out in front of the gate looking at the street. The studio was dark and the lights didn't work and it slowly came to me that there was a power outage. Then I heard the noise of the generators going throughout the neighborhood and the spotty lighting among the apartment windows. Candles were lit. I let him out and went to bed, lying in the dark, in the still, moist air. The power came on just then.
April 18, 2007
Cooler today after heavy rains late last evening with enough wind that the roof fans creaked incessantly late into the night. Now a white sky and the return of traffic noise, but not yet the grinding of steel. Noises of young children crying in distant houses, nearer, the neighbors gossiping and cackling, the concrete walls magnifying the sounds.
Vanna returned yesterday to resume cleaning the house. We searched everywhere for a rat's nest but the visitor has disappeared. I hired a guard, Sadam, to come in the evenings and be present in the house over the long weekend while Mr.Youen is away. Sadam, who was in the army and the police and knows how to watch someone's back, checked how secure the house was against break-in. He looked at all the gates and locks and was satisfied. He came upstairs when I was out in the evening and listened to the neighbors conversing. They are good people, he said. He seemed to want to make sure that the people adjacent to my house were not the kind of people that would allow a break-in.
This past very hot Sunday morning I went to the Lucky Supermarket on my bicycle and was wearing shorts, which is unusual. When I came out the bicycle had been shoved by the guard into one of the rows of parked motorbikes, and as I went to retrieve it, the hot tailpipe of the one parked next to me put a burn into my leg. I immediately felt grateful that I was being given another lesson about living here, that here was another thing to look out for and I learned it the hard way.
I hardly went a half-kilometer when I had to stop and get burn ointment at an apothecary, doing the usual pictorial gesticulations to make them understand what I needed. This one involved a hot, hissing sound on my arm. There was a big blister by nightfall and now a fresh pink skin is forming over it. I looked at it yesterday and identified it as exactly the mark that would sometimes appear out of nowhere on the bodies of performers in porn films from the 1980's: A fresh burn mark that the makeup girl didn't see until the actors were in the thick of it, the film was rolling and it was too late to stop and cover it.
Between the burn and the bruise from the fall on the stairs, I feel like a very slightly wounded animal. These physical sensations are outward manifestations of how I am feeling anyway: they give my emotions some companionship. I feel battered by this place, though it is more the product of my own projection than anything else. For a person (me) that I do not think of as being particularly mature, in fact, I am highly reactive, I seem to be able to appreciate fairly complex vintages of feelings, i.e., I feel an underlying despair at having chosen to be here. I am almost counting the days. Tomorrow is the twentieth, which means it will be a month until I will begin leaving. It is heavy emotional work to get up and be in this very foreign place because I am not here to escape from somewhere else, which would immediately make it a gratifying place.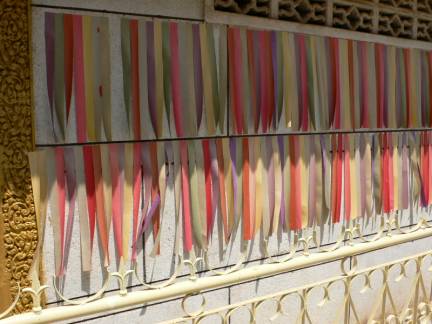 This is what happens when one chooses to live for a while where one's particular aesthetic preferences are manifest. Just looking out the back here I can see the rusty corrugation on the upper part of the neighboring roof. Tucked underneath that is a line of corrugated green fiberglass and then finally there is a line of grey gypsum of the same material. Closer is the large balcony on the upper floor of another building where an addition has been added on. This time the lower part of the "penthouse' is clad in royal blue-painted metal, while the top is in blue, red, and green stripes between alternating thinner stripes of white. This spirit of improvisation, the practical use of what is at hand, what your friend can get you cheaply, etc., is behind all the "vernacular' architecture here, as in Vietnam, and is delightful.
I have come to the part in The Guermantes Way where the writer is fondling Albertine in the parlor and I am wondering if this is not one of the places where he substituted a woman for a man, or here, a girl for a boy. I have been moving so slowly through Proust and Beckett that it is no movement at all; Proust in the morning for a few pages and Beckett at bedtime for even smaller amounts. This has been going on for years now. I like Beckett the most when he is closest to Proust, when he addresses memory and time, and I like him least when he is humorous and scatological, and I like low humor. There was something I was reading in Practical Insight Meditation by the Venerable Mahasi Sayadaw that reminded me of that aspect of Beckett though:
"Third, reflect upon the repulsive nature of the body to assist you in diminishing the unwholesome attachment that so many people have for the body. Dwell upon some of its impurities, such as stomach, intestines, phlegm, pus, blood. Ponder these impurities so that the absurd fondness for the body may be eliminated."
April 17, 2007
The way Beckett avoided this Irish curse was to write in French and then translate it into English. But what is very satisfying about Irish writing is when one detects the attitude of being more interested in writing per se. Edward Said observes of Glenn Gould, "...his dislike of being in close touch with the march of time." Up until the EU you could go off to this rainy underemployed country and not pay taxes and do your work. The place wasn't going anywhere fast. I would imagine all that has changed, but I have never been there.
Cambodia is moving slowly, which is why I chose to come back and work here instead of dynamic Vietnam. They have not been completely shot up with the heroin of commerce yet, or that of media. People sit around and play guitars or play with their kids, they play cards, they watch the street. The human element is still present. I like the elegance of the women and the very different Buddhist element, it's much more dominant here, another reason I came, and monks are everywhere in their burnt turmeric, mustard yellow or juice orange robes.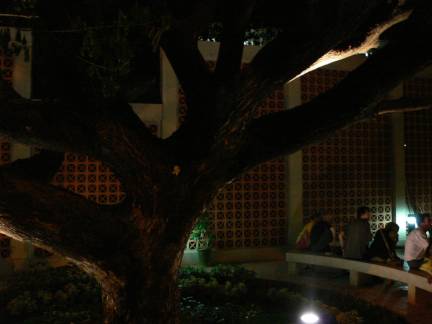 Fried food smells come in waves at various times throughout the day. Meat is always being grilled on the roadsides, sometimes for blocks. Electricity is expensive, so it is dark at night, something I am getting used to. There is the same roar of motorbikes, but horns are used very infrequently here.
There is such a large population of NGO workers that there is less of a mix with the Cambodian population. There are many good, inexpensive restaurants that cater to the transient population, and for the first time I have become accustomed to drinks like berry or citrus smoothies with meals.
April 16, 2007
Monday here, and the New Year's holiday continues. Yesterday morning I was out the door at seven a.m. to a Kundalini Yoga class and the streets were very quiet and empty. Things picked up later and by evening Sisowath Quay, the road that fronts the river and has all the tourist hotels and restaurants, was jammed in both directions, mostly with young Cambodians cruising on their motorbikes. I was not previously aware that out past this raucous strip, where the riverbank descends into a long vista of water, is the point at which the Tonle Sap River meets the Tonle Bassac, the flow from Tonle Sap Lake, and the Mekong. It is called "The Four Mouths," and helps explain the odd sea air I mentioned in the Artnet piece.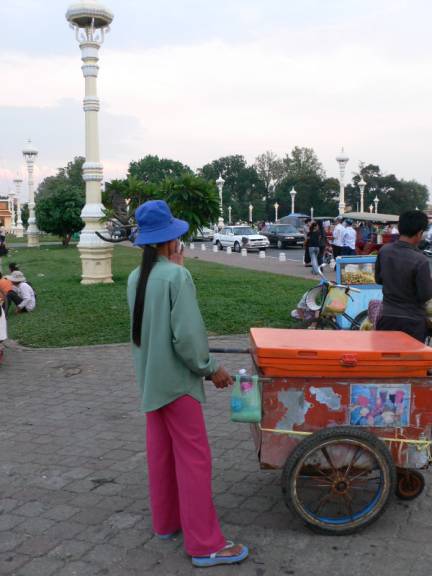 This is the holiday where many of the city's residents visit their families in the country, and I was told I'd be surprised to see how much the city emptied out. Friday was the largest and longest exodus. Every vehicle, no matter how beat up, was filled up with bags, packages and bodies. I saw large vans leaving town with their interiors filled and their roofs holding, in some cases, as many as 50 people. There must be a high traffic fatality rate through this period. I don't like to be out too late on my bike because there are drunken kids whizzing by and there were one or two close ones with them. But I have yet to see an accident.
My street is completely closed up, except for the guesthouse/brothel two doors down. The metalwork shop across the street closed on Wednesday. I will not look forward to the resumption of its activity. I look at the city largely during my errands, since I have not spent large periods of my time investigating Phnom Penh as I did on my last visits. It puts me in this position of feeling subject to it, and I have not covered it in such a way that a psychological ownership has taken place.
I have been meeting lots of people, mostly western ex-pats, including a contingent of young, attractive, artistic ones at a party the other night. If they have been living here they must be a little tough too, a quality one used to have to have when moving to New York after graduation. I thought that I would have wanted to move to a place like this after school, if I knew it was possible, and I am always telling my graduate students to do it. Plenty of Europeans do. But then, when I was young, I was attracted to New York because it was full of artists and writers and I wanted to meet them and learn things and have a life doing that there. And then there were the trips to Europe to get "cultured". And so I developed myself, and came to this place, attracted by its combination of rawness and nostalgia.
The bathroom area has three kinds of rat traps positioned near where I think it or they are coming in and out. There was more scat yesterday morning and I haven't caught anything and it's depressing. When my domestic help and guard/handyman return from the holidays on Wednesday, I will turn the problem over to them. I feel a little like Little Lord Fauntleroy, but I'm not going to go tearing the room up looking for a nest of vermin when there are people here to do it. It is cooling off now at five p.m. At noon it was very, very hot. In the late evening the breeze dies down and the air gets thick with dense static dampness. The first sun of the morning is like that too.
I chose yet another Iris Murdoch novel, The Unicorn , for the plane over here and it is so boring that I am still reading it. If you start on the wrong novel with her, you wonder what all the fuss is. I am lucky I hit so many good ones at the beginning. There really hasn't been a lot of time to read, but then twice a day I am still watching episodes of House . I am about halfway through the second season and when that is done I most likely will be acclimated here.
Bedside reading to accompany Samuel Beckett ("One is on his back in the dark") is a piece downloaded from the London Review by Colm T—ib'n on Beckett's actors. He writes about how Jack MacGowran and Patrick Magee were in fact the greatest actors of the age, but were usurped by Gielgud, Richardson, etc. MacGowran came to Beckett's work with a complete intuitive grasp; he couldn't explain it, he just did what needed to be done with the texts. I used to work with a guy who was MacGowran's dresser. His job often involved taping his wrists because the actor was always attempting suicide before he went on. T—ib'n's style had a lilting roll to it, as if he was consciously evoking elbow up standing in a pub. Irish writing, at least the contemporary work I have read, such as John Banville, has this bare-bones-on-a-page quality, but seems very consciously aesthetic and a bit too pleased with itself.
April 13, 2007
My domestic helpers, the guard and the housekeeper, are all gone for the New Year. Before she left Vanna warned me about break-ins. The house is very secure, everything is gated and padlocked, but I was not very comfortable with that final word. Then as I was going to bed, a rat leapt behind a trunk. I said. "Oh. Great." So I had a night where it was too quiet outside and I lay there reading Beckett and wondering about noises and thinking about my friend behind, or inside of, the trunk.
I have a long history with rats. I had an infestation about twenty years ago that I would not wish on anyone; I have not had to deal with one in my house in about fifteen years. Everyone faces some issue with them in NYC at some time, if nothing else, when they wait for the subway and watch them scurrying under the third rail. I noticed that I look for them now, because I usually know where they might be. My fear of them has passed to an uneasy acceptance that they are part of life. When I was away teaching in Tennessee one semester, I cured my New York homesickness by playing the Velvet Underground and reading a book about rats. They are as inevitable as death, but they are not your friend, as death can be.
The area is now surrounded with glue traps. In Cambodia, one buys a can of rat glue and some plastic discs that you paint the glue on, leaving a little treat in the middle. I also hired someone to look after the house when I am out in the evenings until Mr.Youen returns. This is what one does here: you begin to develop a network of locals that know the ropes and look out for you. This is different from the last part of my time here when wherever I was staying, a guesthouse or hotel, there was someone running interference for the guest. I am determined to make this work because I set out to do it, and the studio is so great, and I am slowly gathering steam to work, despite the constant challenges and the learning curve.
Walking around the Orrassay market this morning looking for fabric, I had a sense of having done this so many times now, and I wondered if I was up to it again. It was hot and I had to bargain with people and there was no common language; it was work. And it's my work. Going back to the attendant to get my bike, which was behind a stinking mudhole in the lot by the market, this dirty young man struggled through the muck to give it to me. I seem to think I have to experience this, that it will feed the work in some way, or me, knowing what the world is like for a very large part of the population.
April 12, 2007
This new Phnom Penh section of the diary might be called "House on Art Street.' Nearby are workshops that offer "all kinds of sculpture"; there are granite Buddhas of all sizes and various temple guardian beasts. Their styles are homogenized compared to their forbears. There is a street full of these places. Also, innumerable art shops with paintings of traditional Khmer scenes: lots of rice paddies with grass huts at dusk, men fishing near ancient stone faces from the Bayon, plus, of course, numerous paintings of Angkor Wat, at sunset, from all angles, etc.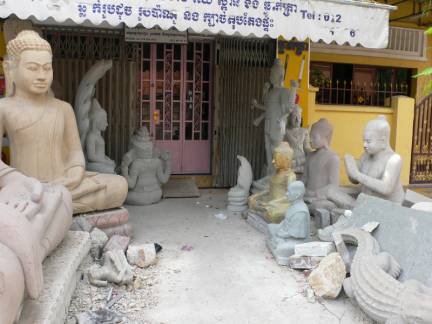 I can buy the cheap ready-made stretchers here and I have a few stacks in the studio ready to use. The only painting that I completed so far was 8x10 inch burlap on cardboard piece for a benefit auction. When I had it up on the wall in the studio both Vanna and Mr. Youen looked at it like it was a picture. It was a particularly scruffy piece of burlap with two rectangles that were from paint that had soaked through from the other side and some crayon marks around the borders. When I brought it over to FedEx it was already wrapped and they asked me to take it out when I told them it was a painting. The woman at the counter took it in the back and it apparently was passed around the office before they brought it out again and re-wrapped it.
Dinner last night was with Jane Martin, who has been here for eight years and speaks Khmer. She makes videos that involve theatre-based interaction with local people. I have no idea what this is really about and I am afraid that I don't have the energy to really attempt to understand it. My journalistic internal resources are fried. I feel extraordinarily selfish in regards to what I am going to think about.
Jane was very sharp and inquisitive and interested in everything. When I told her that I spent the first week or so here trying to figure out the noises in the house and wondering what was an omen of how my time would go here, she said I must be a pessimist and that she found it enormously entertaining. This is something that I observed among many of the long-term ex-pats that work in the social sphere in the region, as well as the people I had talked to who worked in the American Embassy: they are optimists by nature, quite ready to believe that things can be worked out with discussion and negotiation. That communication makes all the difference.
Reading Henri Lefebvre on Modernity, Lefebvre discusses the Modern as a homogenization of cultures, of finding what points they have in common. I don't have the book with me so I may be remembering it wrong, but there was a familiar ring to it, that I recognized aspects of the homogeneous in certain canonical works of modernity, Mondrian, Picasso's African art cubism, Matisse's deracinated Islamic decoration. Maybe he, Lefebvre, actually means deracination - that these have been removed from their original cultures.
This is why I am wondering how the boring contemporary Buddhist sculptures that are being carved out on the street here make me feel the same way that the Carroll Dunham show did. I just read the Saltz review of it online and that made me feel tired too. In both cases I felt that I was being folded in towards a particular attitude - in the most general terms, the closely held value that art must be exciting and transgress; this has hardened into dogma. This is why Dunham's art always made me feel like I was at Starbuck's and in the presence of a kind of industrialized hipness.
The same way that Saltz sometimes produces industrial art criticism, trying to be the voice of the zeitgeist, a homogenized extrusion of what everyone is thinking, the Dunham paintings are pro forma executions of received ideas. The cartoon image pushed through an expressionist style, plus accelerating levels of gratuitous transgression. If Alan Davie's painting style had been bought up by a huge multinational corporation and subjected to strenuous market research, it would look like Dunham's work. In both cases we are being presented with a message that has been formed with the idea that this is what everyone is thinking and feeling. What the artist or writer is thinking or feeling doesn't enter into it. I see no difference between this and commercial culture, where an attempt is being made to make me think that I am getting information about what everyone else is thinking. It's a sad feeling to have, and a very American one.
The ground is a different place here. Jane suggested we go to a local place to eat, called Yongo. Jane, who knows the owner, wondered what the word meant in Khmer.
He said, "No. It's an English word, Yongo. The restaurant is where the young go."
It was an outside grill restaurant, where a charcoal brazier was set up at every table on a dirt lot behind the palace. Waitresses representing different beers come around and take your order and try to sell you their beer. The beer waitresses are salespersons, and at one time they wore the logos of the beer companies and were openly solicitous; they would sleep with the customers, as well as let them buy them beer. Jane said that with all the documentarians and various children's advocacy people coming through, there began to be a movement to let the world know that international brands such as Heineken were participating in the brothelization of developing societies, and the situation changed.
We were shown to a metal table where four people had previously been eating, that was filled with dishes and scraps of food and various shells, bones and grease. The waitress stacked the dirty dishes nearby and swept the rest of the leftover meal onto the ground. The dirt floor area surrounding the table and other tables in the area was so thick with scraps of past meals at that point we had them move the table to a different area. As she put her bag on the table, Jane said Cambodians never put a bag on the floor, that they will bring a chair if necessary if they see you putting your bag on the floor.
In general, it's a good idea to leave a restaurant quickly if there is a table full of military officers eating nearby, because you never know how drunk they are and there might be an argument and stray bullets may start flying. One should not expect help from the police if one is robbed. As a matter of fact, to get your stuff back, you need to pay the police for half of its value. And if your house is burning down, the fire department will come, but you need to pay them first or they will not put out the fire. I'd like our friend George Bush to live here for a while, and he can rethink gun control, cronyism and laissez-faire capitalism.

April 11, 2007
The police blotter in the mimeographed sheet that is the local English-language daily paper is full of violent shootings, attempted murders between family members and disagreements over gambling that end in death. A few days ago the bodyguard of a local chieftain got fed up with the same pre-New Year's late night screaming and clapping that I have had to put up with - the kids have been it doing all over town - and went out on his street and started shooting.
The electrical power goes out at any given time, in the middle of the afternoon, in the evening, plans suddenly need to be changed; one cannot suddenly do some work on the computer or nap under the fan. The water pressure slowly dies and then revives in the evenings.
I like to sit in the kitchen in the morning and look at the sky and the trees in the backyard, which Vanna, the housekeeper, pointed out, are beginning to show bananas. I go to Wat Lanka every other night and meditate with a few others for an hour. An illusion appeared at one point during the practice, or rather, the opposite of an illusion, but an optical trick, where appearance disappeared and I was staring at a void.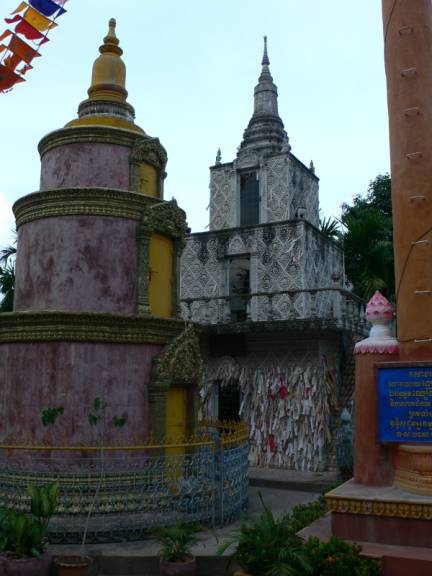 The following morning, yesterday, I came down the stairs at seven am, as usual, to let Mr. Youen in, and I slipped on the bottom step. The last two steps before the ground floor are masonry; the upper stairs are all wood. I went flying and hit my side and it hurt like hell. I went to the very good American clinic, SOS, and the doctor said I had only bruised a muscle. I am still riding my bicycle around, but I am not doing Yoga for a few days.
One resident here was telling me about noise. He said when the people are blasting music, they think it's a gift, that they are giving something to everyone for free, because the speakers, the CD players, et cetera, cost money.
Last night I went to a concert out on the Airport Road with Sopheap Pich, the Cambodian-American sculptor. It was at the Japanese-Cambodian Friendship Society and it featured a concert of young German musicians doing big band jazz, Ellington, Mingus, etc. The building was in late Modern international style, with elements of Asia, such as the decorative open grillwork that moves air and breaks up strong sun. Best of all, the inner courtyard was built around a big tree that snaked out, splaying out over the courtyard. There was a slot in the wall for a long low branch.
I am still uneasy here and don't know exactly why. I didn't pick Phnom Penh because I felt particularly warm towards it, more likely because I thought I could be someone that no one would bother, I would be left alone. This seems to be what Sopheap does here too. He's very social at the end of the day, but likes to be alone and to be left alone, out at his studio with his assistant, making his rattan sculptures. I stopped in to see Bertrand Porte at the museum, and he is off to Taiwan for two weeks. He took a quick look around the conservation wing to see if there was anything new to show me. There was a very old wooden Buddha image, partly rotted away, and a stone nest of cobras.
April 8, 2007
My mother's birthday. Overcast morning, ants scurrying around the kitchen counter, the bat flying around the first floor again last night. Chopping sounds (ice, probably) from the next balcony, a baby gurgling below. My back is sore, which changing the mattress will perhaps solve. I went to the blind masseur place, "Seeing Hands Massage," yesterday and had one and a half hours of Japanese massage. I took the bicycle over to Wat Lanka for their sundown hour of meditation. Every time I leave the house I pass a huge rose bush on the next corner in front of a collapsing French Colonial house. The street is lined with cooking stalls and people sleeping on the ground or in dirty hammocks. Some sort through garbage. If I head towards the Independence monument, I pass around a quarter of a mile of yellow masonry that is the back wall of the grounds of the Royal Palace. Every five hundred feet approximately, there are unmanned guard posts, also made of yellow masonry, with stylized funnel roofs. Above the fifteen-foot high yellow wall is a fence of dark green corrugated metal, then - running just as solidly - the leafy tops of trees.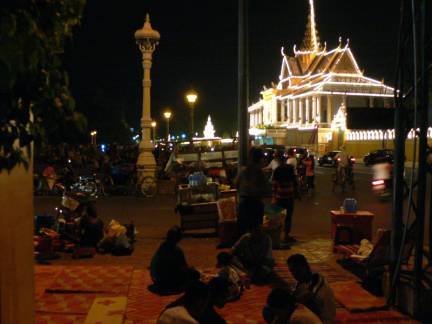 Today was the first day in the studio. Behind it is the garden, such as it is, a few palms and some vines, but it cools the ground floor. There is also an outdoor shower. I can feel the humidity increasing in the morning; the afternoons are hot enough that I end up lying down until the worst of it passes. Then comes what Francois Bizot called "the seeming complete forgiveness Southeast Asia's early evenings."
April 6, 2007
A good night's sleep, despite the kids screaming on the street late into the night again. I was talking to the young woman across the street yesterday; she said it was a traditional game associated with the New Year. Observing it the other night, it seemed to be about coupling, where groups of two, hands joined, held one person of the opposite sex within their arms. Then there were exchanges and everyone clapped and laughed in unison. The girl told me it would go on until next Friday when New Year's begins. With some ibuprofen and earplugs I fell asleep in the middle of it all.
I like it well enough in this strange city. It's odd how one chooses to get used to wonderment, to hold it at a distance. I am here to work, so instead of going out and exploring, I stay in and watch the complete first two seasons of House. I got it in HCMC for five dollars. I watch the main character watch soap operas while he thinks about how to cure a patient, and I watch TV while I wait for my studio to be ready so I can figure out how to make a painting. I had read that the name "House" is a kind of oblique reference to Sherlock Holmes, another great, smarter-than-everyone-else, fucked up character. He has problems with women, too: very Victorian, that. The show must appeal to the pre-adolescent in me. It's nice that something does. Oh, yeah, living out some Boy's True Adventure in Mysterious Old Asia might fall under that category, too.
I looked online for the NY Times art reviews and the site was blocked as inappropriate. I don't remember whether or not I had visited the site here already and consequently don't know if it is permanently or sporadically blocked.

April 5, 2007
The tops of the elephant palms in the back yard look into the kitchen. Beyond them are balconies, rooftop enclosures, then the tops the stupas of Wat Ounalom, one which contains an eyebrow of the Buddha. There is an airspace to one side of the building next door, and I look over the back porch of a woman's small apartment. She has fish drying in baskets and a handful of sausage and a bunch of shallots hanging from the clothesline. Across the way, younger girls are talking to one another from the opposite balconies already: domestic noises.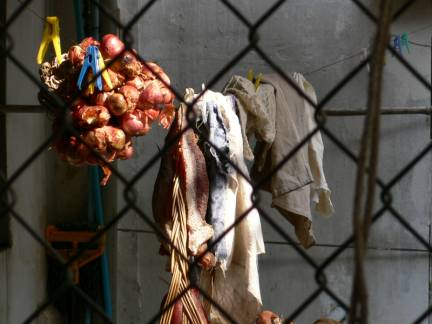 I let in Youen at seven a.m. and the garden gets watered. He watches the house in the mornings and evenings. He speaks no English and when I went out yesterday morning, I returned to find the house completely padlocked. I had left my keys inside, thinking he would be there until my return. I had a bag full of perishables: coconut and boysenberry yogurt, French packaged ham, two papayas, tangerines, and it was already very hot. One of my neighbors sells cold water and soda from an ice box and let me keep the bag in there while I went off until the owner's assistant came to open the gallery later so I could get in. When I retrieved the groceries she refused to take any money.
The ironworks across the street had already begun at seven-fifteen. I had several of the men from there working in the house today. The night before, when it rained, I had closed the gates on the front windows and the hinge broke off, effectively making the place penetrable for the night, my first one. In the afternoon I had the gallery assistant and Vanna, who cleans the house, get the welders over here to fix the gate. There have already been negotiations as to when the gallery will be taken down so I can begin working in it and how many days Vanna will come and clean. She has refused to cook, as the owner said she would. I have also been to a yoga class and bought a bicycle helmet.
In the restaurants by the riverside the western visitors seem almost evenly divided between men around retirement age that are here to satiate their obsession with Asian women, and another frumpy group of men and women who are here to do good and help others. Neither is very attractive. A third group, Lonely Planet-type tourists, passes through more quickly: invariably attractive thirty-something couples. I hate their oblivious self-assurance. Many have sling bags made locally and their boyfriends sometimes do that awful look of putting their sunglasses up on their cap visors.
I had to sit next to four young people, two couples in a restaurant last night that all spoke English, but were all European, with English perhaps their only shared language. English is murdered every day everywhere now. I want to learn French and hide in their language. They went on about their work with the NGO's here, and one brought up the paradox of how he had the privilege of being able to work with the underprivileged so he could feel good about himself. Oh shut up. All of these restaurants have large rattan and bamboo chairs and you cannot sit up straight, you have to half-recline, like a Colonial. Try as you might, you cannot help but take on the slouchy body language.
April 4, 2007
Phnom Penh: I am off to a very rough beginning. More than that - this is an absolute disaster. The house I rented is nice enough; it has four landings above the ground floor, which is to be my studio. High ceilings, overhead fans, cool tile floors. Above it is another full floor, with the kitchen in the back, where I am sitting now. There are two more floors at staggered heights above it: the bathroom is towards the back and my bedroom is higher up in the front. It is completely open above the ground floor, with just stairways and railings. A very modern house built inside the shell of an old one.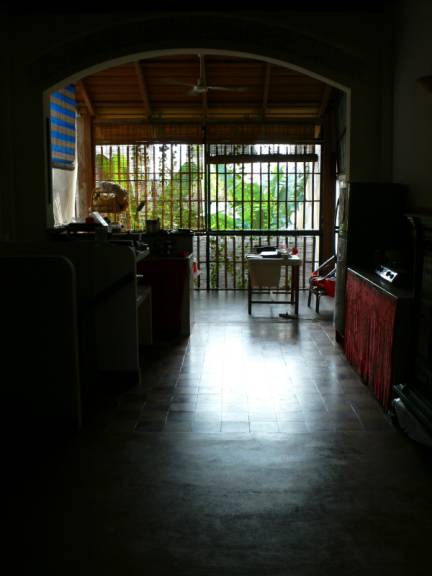 I asked the owner if it was a quiet area and he said, keep the music down after nine, Cambodians go to bed early. Then, how do you explain a street full of kids playing and clapping and singing and screaming until midnight? And it's still going on. I don't know what they are saying, somebody yells and I think maybe it's to say, let's quit, but then it goes on again, bouncing off the walls of the buildings and reverberating. I keep thinking they are going to calm down and disperse, then there is a new wave of excitement and it starts up again. Last night there was a rainstorm for a half an hour or so. Maybe that's what kept the kids home. I hear everyone will leave town for Khmer New Year on the 13th and it gets very quiet. But I don't know if I can last, it's noisy enough during the day, with the traffic and the welder grinding across the way, much more noise than I was led to expect, and now this. It was so beautifully quiet last night. Now they have discovered a new game and they will be at it every night.
I don't even know what to do. My first thought is to pack up and leave. Do I stay here? Go back to Vietnam? I decided on Phnom Penh because it seemed more peaceful, but the first twenty-four hours have told me to turn and run. I can't even think straight. The house in Saigon got better after I left, I was told. The construction noise lessened and wasn't a problem. I thought I heard some rain. Then there is that idea of what a difference a day makes.