BOMB contributing editor Joe Fyfe is a painter and writer who has had solo shows of his paintings in New York, Paris, and Ho Chi Minh City. He has written for Arts AsiaPacific and Art on Paper and regularly writes for Gay City News, Art in America, and Artcritical.com. Fyfe is the recipient of a Pollock-Krasner award and recently won a Fulbright Award to research contemporary art in Cambodia and Vietnam. He is currently living in Vietnam, where his solo show "Homage to Hanoi" is on view at the Ryllega Gallery. Following are excerpts from his journal about his experiences in Southeast Asia.
January 21, 2007. Two days of visiting artists and going to openings and now pulled up by myself on Saturday night. I sit in a restaurant with an old copy of J. F. Powers Prince of Darkness I just found down the street. My order takes forever to arrive because it has gone in behind a party of thirty that is upstairs. As it is, I have put off eating too long, and my anger rises from my hunger and the idiocy of not understanding that if you are going to seat someone eating by himself he must be attended to. A famous NYC restaurateur has just published a book where he notes his particular interest in the lone diner. Why can't I be eating at his place? All the tiredness of being far away comes up at moments like this, but it is much less so than in past trips. I remember Tracy Williams said before I left, "So it will be lonely, so what? " I loved that advice.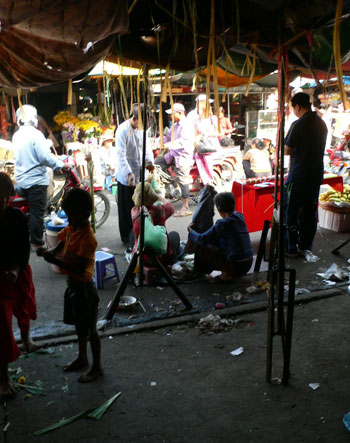 I met Bertrand at the museum this morning and he took me through the exhibits, slapping the stone figures as he emphasized something, showing me the seams where broken figures were rejoined, making an observation about a work of doubtful provenance. And he took me into the office and showed me some rubbings out of the files that were useful in the restoration process. I was hoping he might give me one. It seems like a dream job, to be around the most beautiful figural sculpture in the world all day long. But then, he has a particular job to do there. I once again had to leave after an hour or so; I can't take too much of that museum beauty.
Walking north, I came to one of Phnom Penh's many markets, narrow aisles filled with clothing, house wares, and toiletries; there were the chunks of meat lying out on the cement blocks attracting flies, people sleeping everywhere. When I walked by, the people in the stalls yelled, "Sir! What do you want? " insistently. I kept moving rather than be lunged at. Another section had women getting their hair done, then more vegetables and fruit and several rows of cooking stands. It was hot under the striped tarpaulin canopies. And it stunk. The concrete ground was awash in filthy water and old vegetables and pieces of meat and dirt. I stepped over discarded silverfish and broken up melon rinds, always waiting for a rat to dart out, but it was too early in the day for them. This was a poorer market than usual for me, another instance of being reminded of where I come from: the clean suburban house in the antiseptic country.
The market experience summons thoughts of my father: the product of a broken, drunken Scottish immigrant couple. He goes off to war even though he is underage. He is assigned to a submarine and serves the last two years of the war in the Pacific. The submarine is the first real home he has. The quarters are close, and they remain submerged for weeks at a time, so cleanliness is particularly emphasized. He loves the regularity of it: the discipline, the precision. Years later he is enforcing similar stringencies on his family, inappropriately, but that's all he knows.
The war is over but he has 18 months left. He goes ashore in Shanghai, Tokyo, walks through markets such as the one I'm in, or ones much worse. Filth everywhere, starving people. A Chinese man rows out into the harbor to the submarine and is grateful to take a pail of plate scrapings from the sub's dining hall. But what horrors does it instill in my father? Does it pull him back to the desperation of his own childhood? Is it an abyss? He has escaped being killed in the war, but now it's so far away from his experience. It's terribly different and he never wants to see that much sinister water, disease, and desperation again.
January 19, 2007. I am again at the relatively cushy Boddhi Tree Aram in Phnom Penh. "Relatively " because there are no phones or DSL lines and the street below is lined with cooking stalls and the burnt chemicals waft uwpards. But it's a lovely perch. I have my own balcony with potted plants and a view of palm trees beyond. The radio plays below the patio where I breakfast and read my six pages of Proust. People live at the base of the building. Ten neighborhood dogs start baying at the first glimpse of sunrise. Then twenty minutes later we are all back asleep.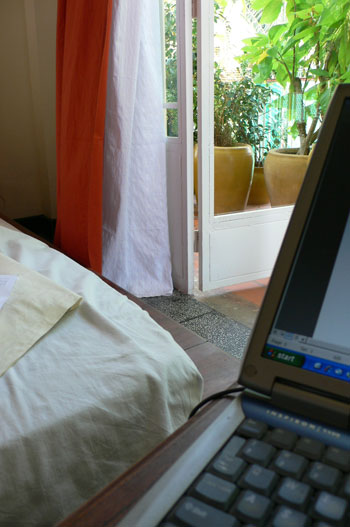 I will be doing a quick piece on the art scene here for Artnet.com, a way of delaying the task of the Report from Ho Chi Minh City for Art in America. I did get a good start on it last week, but then I had to fly here. I was about to rent a house for April and May next to my Saigon hotel, though now I'm thinking of coming here instead. I will be able to get my own work done. I need to be in one place. I have been making drawings with water-damaged rice paper and old Vietnamese money I found in a market. They sell it all over the place. I left the best one in a hotel room somewhere, and only noticed it the other day. I hardly know Cambodia. Phnom Penh is more peaceful, but weirder and poorer and more intimidating.
January 18, 2007. I returned to Saigon last week in response to the latest news that Saigon Open City had received their license from the Ministry of Culture and would be opening on January 13. It wasn't until I got back into town that I was told that it had been held up again. Losing my patience, I sent all the news about the two months worth of continual delays and government censorship of artists to Walter at Artnet.com, and he posted it. I sent the link to it around to the curators and didn't hear back from them. I don't know why I expected to. You can read it here: http://www.artnet.com/magazineus/news/artnetnews/artnetnews1-16-07.asp
This evening I went to an opening at Gallery Quynh and then to dinner with Bertrand Porte, the head conservator of the National Museum in Phnom Penh. He was in Saigon for a week of collaboration at the History Museum there, and also to consult and train conservators at the Cham Museum in Danang. He is a very intense, alive person. I had been alerted to him by Philippe Peycam as someone to connect me with contemporary artists in Phnom Penh. Twice, when I was supposed to spend time with him, he was too busy, but it was fun to drop by the conservation department anyway and to see the Khmer figural sculptures under repair, strung up like kinky infants in straps and slings.
We went to Le Jardin, a popular French restaurant by the Cinemateque, located behind a privet hedge and under some young trees, with tile-topped tables set in white gravel. Since mid-November when I arrived, I have eaten there more often than anywhere else in Vietnam and have probably had twenty bowls of chilled vichyssoise. It has been a good week for one-on-one dinner, which seems to suit me. Perhaps because it's a bit like writing a journal—a direct, undistracted conversation. I had two meals with the arts writer Molly Nesbit, who gave me a short tutorial of Rirkrit's career. During another dinner this past Sunday with Dinh Q. Le, he came out with a good number of bon mots about life in Vietnam.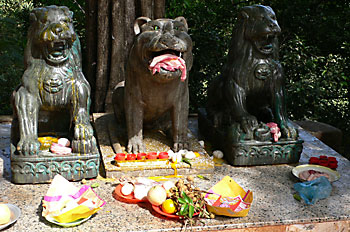 Bertrand has been in Southeast Asia for ten years. He studied conservation at the Ecole des Beaux-Arts in Paris. As I was told, he had an interest in contemporary art. He knew Joel Fisher, Meg Webster, and Jean Luc Vilmouth, who, as it turns out, visits Cambodia regularly. I told Bertrand that we had the same New York dealer twenty years ago. It was at Bertrand's prompting that Rodin's drawings of Cambodian dancers be exhibited at the National Museum. When I first met him in Phnom Penh, he had complained about how the ceiling had to be lowered in the gallery and special lighting and climate control put in above the ceiling to protect the drawings. The National Museum, like the Cham museum, is open, exposed to the tropical weather. It has shutters and gates that roll down at night; all the work is stone sculpture that has been open to the elements for centuries. (But not to our modern, polluted air). The special exhibition room had broken the continuity that is an essential element in the overall design of the museum. The lines from room to room and the high ceilings continue the elegant verticals of the sculptures. For once, I was the receptor in a conversation with a ranter. It's usually the reverse.
Some of our conversation fit the cliché about the French: We discussed women and romance and passion, philosophically. This was a subject that I at one time found fascinating. It might have been the age difference, nearly twenty years, that supplied the relatively youthful fervor. Also typical of every long conversation I have had with the French is their scoffing over my avid interest in their culture. His reaction was, "What about the Italians? " I described my grand tour of Italy after art school to him, then my first visit to Paris a year later, where I expected more of the same kind of excessive baroque architecture but instead was alerted by the restraint that was present in tandem with the decorative energy I first experienced in Italy. I have been mesmerized by the French mind ever since.
He seemed to measure that well. I spared him my interest in the French Catholic revival, and how I liked Georges Bernanos and Francois Mauriac, and how Andre Bazin's interpretation of the Catholic precept of the spiritual existing in the physical world was important for my own work.
It occurred to me that he knew Francois Bizot, who had lived in Cambodia as a researcher of Buddhism and Khmer culture. Bizot's capture by the Khmer Rouge later inspired his book The Gate. Bertrand did know him, he said he was big, impressive and somewhat pretentious, but he liked him. Bertrand mentioned that Bizot had come out with a second book, a policier that takes place in Phnom Penh between independence and the civil war, that wasn't so good.
The Gate is the best writing on Southeast Asia that I know. It was translated from the French, but Bizot was also fluent in Khmer. The narrative may give a hint as to what that language describes. In his tale of his captivity by the Khmer Rouge and his later experiences of the rout and evacuation of Phnom Penh, he articulated his sense memories, never failed to describe textures, smells, sounds, evoking the appearance and odor of dead bodies with the savor of a oenophile, without losing the undercurrent of continual, horrific stress that he and the thousands of refugees experienced. It was not a book on how to write about an extreme historical situation, but rather one on how to write about the region.
January 9, 2007. A motorbike taxi out to the Killing Fields on a dusty road that is being graded and eventually paved in order to accommodate the numbers of Western tourists that come to the site. The memorial tower is filled with skulls on glass shelves, and as I walked on the paths past the holes in the ground where the masses of bodies were exhumed, pieces of cloth stuck out of the earth everywhere. I don't know whether it was cloth thrown aside from skeletons that had been dug up or cloth attached to bodies yet to be disinterred. The two sites in Phnom Penh that are devoted to the crimes against humanity that the Khmer Rouge committed, the Killing Fields and S-21, both use accumulations, the collections of photographs, or skulls or cloth. The other major tourist attraction in Cambodia is Angkor Wat temple complex; the Bayon, with its oversized faces, is one of the most popular temples there. Paul Virilio, in an interview about modern art, said that all art that was accumulations of things had to do with the Holocaust. The only two methods of art-making that I categorically dislike are artworks that are accumulations of things and artworks that utilize an oversized image of the human face. I don't know why that is, exactly.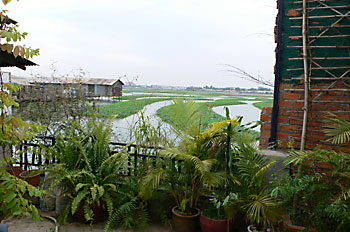 January 8, 2007. I'm at the studio of Sopheap Pich, an artist I was looking forward to visiting. He left Cambodia before the Khmer Rouge when he was 10 years old. After time spent in a refugee camp with his family in Hong Kong, he eventually arrived in the U.S. and went to UMASS and then the Chicago Art Institute. He also had artist residencies in Paris and Vienna. His studio is in the north of the city, over a large lake choked with lily pads. The government is planning on having the lake filled in, and hiring a developer to build some new huge complex there. But for the moment, he said, he gets to see sunsets over the water every day before he goes home. His work—sculptures made from rattan and bamboo bent into criss-crossed organic shapes—is semi-abstract: flirting with imagism, but still caught up in a language that has very much to do with process and materials. It references his memories of his childhood in Battambang, Cambodia's third-largest town, which is broken up into fishing communities, and its water-based rural life there. The work manages a minimal referentiality; that, plus the willingness to evoke places and utilize an abstract language, made the work immensely appealing. The work so readily entered into conversation with my own.
January 7, 2007. Back in Phnom Penh, Cambodia. A certain amount of burnout is setting in, so I am doing what I can to increase creature comforts and luxuries. I am sitting on a roofdeck two flights above a side street in the consulate area of the city. My hotel, the Boddhi Tree Aram, is luxurious compared to what I am used to. I have a little balcony and a large terrazzo bathroom. It's relatively inexpensive as it has only been open a month and staff is still being trained. The food is a mix of east and west; I keep returning for every meal, hardly ever eating elsewhere. The three Boddhi guesthouses in Phnom Penh are run by Manuel, who is from the Atlantic coast of Spain. The staff is most comforting and quietly solicitous.
There are food stalls across the alley below; kids run back and forth in squeaking shoes (at first I thought it was birds). A monk goes by in dark, turmeric-colored robes under a yellow umbrella. It's cool. The sun is behind clouds. Some blue in the distance. It's always noisy; the sounds of the street on this Sunday morning consist of motors, a baby crying, the rustle of leaves, kids shouting.
Thank God there is no music. The operators of the bus that I took from Siem Reap yesterday insisted on playing Cambodian radio for the entire eight hours of the "six-hour trip. " I've done a full 180 degree turn from when I started out several months ago. Back then I couldn't get enough of the culture, the atmosphere. Now I am overwhelmed by it.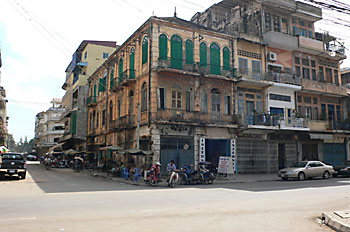 Phnom Penh is a little like a beach town without a beach. Many of the sandy side streets are unpaved and various trucks and motos roar down the dead straight boulevards. There are more cars and less people than in Vietnamese cities. Phnom Penh is considerably smaller, only about two million, and the French influence is more pronounced.
I'm attracted to the lack of development in Phnom Penh; it's what HCMC must have looked like before the international money arrived. Most of the city's buildings are less than seven stories tall. There are numerous colonial buildings and worn modern apartment complexes full of clotheslines and plastic pipes running up the sides of the water-damaged balconies. But a good number of antique buildings have metal fencing around their perimeters, and soon the demolitions will begin.
January 5, 2007. I return to the Center for the Khmer Studies in Siem Reap and continued my talk with Philippe Peycam, who has been the director for six years. "What happens often is, an older dance master dies, one who we have not had time to document yet, and a form of traditional dance that goes back a thousand years is irrevocably lost, " he tells me. We go to the library on the grounds, which is part of a Buddhist school and monastery. There is a mural done from the 1940s, a sylvan wood with deer drinking from a stream. "The Khmer Rouge requisitioned this building during the takeover " he went on. "You want something to write about? Here are the bullet holes where the soldiers shot at the painted deer for target practice. I neglected to put that part in our application for aid from the Gates Foundation; it would have struck at their hearts. Would you mention our website? We are always looking for funding. " Sure, I said. www.khmerstudies.org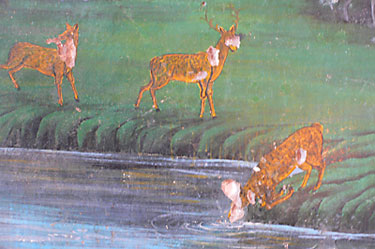 I sat in the library and looked at English language books on the art, architecture, and culture of Southeast Asia, and noticed that Philippe was the author of one of the essays in a book on Saigon architecture. It was the most peaceful hour I spent in Siem Reap. January 2, 2007. I was immediately depressed upon returning to Siam Reap, Cambodia, after exactly four years. The writer Suzan Sherman, who had been visiting, noted this immediately. It had never been a pleasant town, but now it was filled with huge, rather blank hotels that line the roadway from the airport, and there were traffic jams on the road out to the temples. Siem Reap, I was later informed, also replaced Phnom Penh as the brothel capital of Cambodia, its most common clients being Chinese and Korean businessmen. Climbing over the Bayon temple—world famous for its oversized stone faces—I was struck by the calmness and slight disgust of the Cambodian custodial women, whose job it was to keep the tourists from sitting on the delicately placed stones. Most of the visitors were bare-legged and -shouldered. They all looked like they were tramping around in their underwear. The female Cambodian guards were almost completely covered, elegantly, in light brown cotton with scarves around their necks. I had imagined Angkor Wat as a place where a visitor must walk a few miles through the forest in order to visit these temples while wearing some long garment.