BOMB contributing editor Joe Fyfe is a painter and writer who has had solo shows of his paintings in New York, Paris, and Ho Chi Minh City. He has written for Arts AsiaPacific and Art on Paper and regularly writes for Gay City News, Art in America, and Artcritical.com. Fyfe is the recipient of a Pollock-Krasner award and recently won a Fulbright Award to research contemporary art in Cambodia and Vietnam. He is currently living in Vietnam, where his solo show "Homage to Hanoi" is on view at the Ryllega Gallery. Following are excerpts from his journal about his experiences in Southeast Asia.
May 30
Flew back from the island on Sunday. The evening before as I was falling asleep in my cabin I heard two young Australian girls in the bungalow near mine begin going on with lots of screaming and laughing. My windows were all closed because I had the AC on and I could still hear them clearly. I went out side and spoke to them harshly through the curtains. There was not another sound after that. I'm afraid that it encapsulated a lot of my "adventure" here. I am in a collection of countries that participate in the discount student travel circuit; between the visitors and the locals, who are very young, mostly, it has been six months avoiding spring break. Last night was the same thing in my hotel where I have stayed loyally whenever in Saigon. The family that runs it made me feel completely safe and comfortable at all times. The two rooms above me and the one down the hall were packed with young Vietnamese, pounding on the floor and running up and down the stairs, until I finally went out in the hallway and acted like the tough guy, and slammed their doors and they settled down a bit. It seemed fitting that it was my last night here. The owners apologized this morning. It didn't matter; it was over. I was leaving.
The previous evening, amidst torrents of rain, I had met Arlette Quynh Anh Tran, of SOC, and we saw a Vietnamese production of Tennessee Williams's Summer and Smoke directed by an American, David Chapman, performed in Vietnamese with English super-titles. I had grown up watching my uncle, an amateur actor, perform in many Williams plays, including this one, in little theatres around suburban New Jersey. I first began to understand the concept of symbolism watching the Glass Menagerie when I was around 11. Years later, I was in Vietnam attending another Williams play, and enjoyed how "Oriental" Williams's writing is, with its big metaphors from nature: Smoke, Ice, Fire, etc. One of his many great lines: "I am upset because I won an argument that I would have preferred to have lost."
We went to dinner at La Fourchette and had smoked duck salad and saddle of lamb with flageolet beans.
May 26
A beautiful clean ocean after the storm yesterday. In Museum Skepticism Carrier writes, "Some writers believe that, appearances notwithstanding, that all art shares deep values."
I thought of a show of Mel Bochner's drawings that was at Lawrence Markey when the gallery was still in New York. There were some numbers he had written in soap on the front windowpanes and the sunlight came through and projected them onto the floor. Then I thought about my visit to the Alhambra and the patterned reflections that were thrown up on the mosaic tile walls from the sunlight on moving water in the reflecting pools.
Michael Hurson used to live in a loft on Howard Street that was owned by Jasper Johns and managed by Julian Lethbridge. Michael told me that when he would get depressed he would walk over to Broadway and hail a cab to take him to Rumplemeyers Ice Cream parlor on Central Park South. It's no longer there. He said he would go in and sit at the counter and have a banana split and then walk out and take a cab home and go to bed. He once mentioned to me, many years ago, that a particular famous artist he knew was looking for new friends. "What about me?" I said. "No, new famous friends." he said.
May 25
Phu Quoc Island. Awaken to thunderclaps, then lightening. Rivulets of blue sky can be seen behind close, dark-gray masses of cloud. I am in a bungalow in a tropical garden under a mosquito net beginning to feel rested. I am not caring so much that I cannot use my laptop. I do a useless taxi run into town to a computer repairperson who works at an internet cafe, but he is out. Then I go down to the beach even though it's stormy. The morning is made up of intermittent rain, weird, indirect sunshine, and a tonally variant seascape of putty green waves and wool-colored flat sky. The white of the wave-caps and froth becomes prominent, a Heade painting. Then there is heavy rain on my right and clearing on my left, across the panorama.
I seem to like to stare at this blank piece of ocean. I began to notice that it is different from the Atlantic: it's much warmer, and has no muscle. The gentleness perhaps makes it more hypnotic.
I have enough history so that everything can make me uncomfortable. Staring at the ocean with a book in my lap can make me think of long-past romantic damage, still oddly fresh. The final letters came from someone who was sitting by the Irish Sea with a book. Now a place that should be serene is momentarily haunted.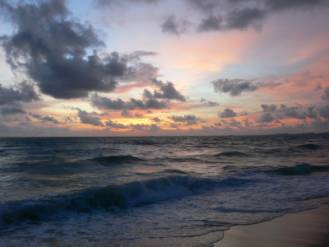 May 24
It is off-season and I get a much more luxurious cabin at a lower price. I woke up calmer than I was yesterday and do what I can with the spotty internet service. At 9 AM the ocean is cleaner than yesterday afternoon, when every time I went in the water I was touched by plastic bags, a broken oar, bits of sacking, chunks of Styrofoam, seaweed, candy wrappers and empty condiment packages. The jelly fish stings came frequently. The wind is strong and steady. This past winter, the breeze would only pick up in the late afternoon. At that time there were too many people, I thought, and now I miss them. I feel like an aimless truant.
I am reading David Carrier's Museum Skepticism and Colm Toibin's The Master, a fictional account of Henry James' later years. In Carrier's first chapter, "Entering the Louvre,' he examines one of James' last pieces of writing, a memoir of he and his brother William's visit there when they were children. So both Toibin's and Carrier's James are blurring together. Carrier has some great stuff on Baudelaire and James' opinion of him.
James wrote that Baudelaire had "rather a dullness and permanent immaturity of vision [He] knows evil not by experience, not within himself, but by contemplation and curiosity, as something outside himself, by which his own intellectual agility was not the least discomposed, rather indeed agreeably flattered and stimulated."
A very good description of why artists are not necessarily on the high road to anywhere.
I happened to be sitting next to Carrier only a night or two before I flew over here. He dominated the conversation with art historian gossip that was barely interesting. It didn't stop me from liking his books.
Michael Hurson: "You always used to run into artists at all the shows at the Met. Now, with so many more artists you never see anyone at them. They don't care anymore, they're not interested."
I lay in bed last night and listened on my iPod to the Los Angeles Philharmonic perform Bernard Herrman's score for Alfred Hitchcock's "Psycho." Michael loved to describe the scene in "To Catch A Thief" when Grace Kelly takes the initiative and kisses Cary Grant. I remember I made a condolence phone call to him when I heard that she died.
Michael was the first person I knew to have a record of a movie soundtrack. It was "8 1/2."
May 23
Arrive on Phu Quoc Island in disappointment. As I boarded the plane I discovered that the power cable on my laptop has ceased to function. No movies at night and none of the writing I planned on doing. This is being written by hand. The resort where I have stayed four times previously, through the winter high season, is barely occupied. The waves are more turbulent and there is trash washing in. Thoughts of previous times punctuate my hours here.
May 20
The jaw pain is only easing five days after it began. I went to the American clinic, my third visit in as many fortnights. The talky, touchy dentist, a man with red-dyed hair, ubiquitous among middle-aged western men here, explained to me that I had a periodontal problem aggravated by teeth grinding. Again, I am on antibiotics for an infection. It got so bad last night that I took a heavy painkiller. Somewhat better today. An architectural tour this morning was mostly colonial buildings, but we got to go inside a few. It was very, very hot and I was delirious both from the heat and the continuing bad mojo that is the history of Phnom Penh. There is no avoiding it.
One of Baudelaire's lines from his final notebooks goes: "I felt I had been brushed by the tip of the wing of madness;" Twombly scrawled it on a group of paintings on plywood about ten years ago. I thought to myself for a moment that I might have been brushed by the tip of the wing of delirious unhappiness in Phnom Penh. I might have been brushed by the tip of the wings of bats, too.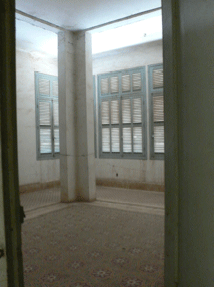 After a dinner party at Jane Martin's I took my bicycle home at a later hour than I am usually out. I got lost for a short period. I was away from the river, going through the residential neighborhoods that are full of life during the day, with their shop fronts all open, but at night they were silent and gated. The streets were full of garbage and the smell of it. It gets thrown out in big piles and is picked up, mostly, by morning. So strange to think of the city being completely cleared out, as it was when the Khmer Rouge took over. I think that I hate it here. I am very happy I am leaving; I found myself singing this morning and I was pulled up by the surprise of it.
I chose to come here because I was that visually attracted, and time and again, in the worst heat or mood, I will be mesmerized by all that I see. I wanted to live in a country with a richer Buddhist culture than Vietnam and I wanted a less intense city than Hanoi or Saigon, where the air is not yet poisoned by exhaust fumes or accelerated by commerce. It also seemed that with the Fulbright awarded for research in both countries, I would spend part of the time here. There is much more sense data available in Phnom Penh at any given moment than any artist needs, or I need, I have discovered. What it does have is light, something that a painter needs. I have bought more fabric in the market and shipped it to Switzerland, and then I went back today and bought yet more, and will most likely ship that off tomorrow.
I keep coming back to the memory of the day in early autumn when I found the Bia Hoy in Hanoi, with the Vietnamese steak frites. That moment feels like the other bookend to this time: the optimistic beginning and the pessimistic end. I am more of a pessimist and more of a misanthrope than I was aware. If I have learned this, it remains something one can not keep easily in the front of one's mind.
It's Sunday, and I haven't shaved in a few days, but I won't shave today, because Michael Hurson once told me that one never shaves on Sunday, it's not proper. When I was a young artist I considered him a mentor. I never knew exactly how he was aware of how to go about certain situations but what he told me always sounded right. He told me that it is proper that a man get a spot of food on his shirt during dinner, also that a painter should only use oil paint, never acrylic, and that you should never leave your gallery that you should always be kicked out. As time passed, I noticed that some people considered him a crackpot, but I always loved him. He could not alienate me no matter what he did. We became less close after the 1980s but our friendship revived from time to time. We would resume occasional meals or movies together.
Often he would agree to meet with great enthusiasm then would seem to get a little disappointed and I would secretly wonder if he weren't wishing he was with someone of a stature that would give him proof that his life was going where he thought it should go. He did like the famous, and one of the unique things about him was the way he seemed to be his own free-floating cafe society. I heard many stories of his conversations with Jasper Johns and David Hockney, the living artists he particularly admired, but one could just as easily discover him in earnest conversation with the crazy street person who had wandered into an opening.
I met him shortly after the New Image Painting exhibition at a dinner party. I had already been to the exhibition and thought that his work was the best. A few years after the New Image show I saw the key work of his from that exhibition, the double Otto Pfaff painting, perhaps his masterpiece, that is in the collection of the Metropolitan Museum. He described the intricacies of the construction of this very simple painting, with its applications of silk-screened lines, how he used a piece of sponge to apply a spot of orange to the nose of one of the two cartoon figures, how the texture of the painted surface was varied by dabbing paper towels, how he had to execute the painting three times, beginning with a fresh canvas, until he got what he wanted. He made the painting in Chicago, and thought it was so wonderful that he threw a party for it. When no one there understood the painting, it prompted him to move to New York.
Much of his work remained alive for him, he could stand in front of a painting or drawing he did ten years previously and talk about it as if it was a recent work, speculating on its meanings.
His boyfriend at that time was in my gallery and we were friends but after they split I stayed in touch with Michael. He only had one boyfriend and one girlfriend earlier, before he became aware that he was gay. He was a sexual late bloomer but was something of an art world prodigy. Henry Geldzahler and Burr Tilstrom, the creator of "Kukla, Fran and Ollie" who Michael assisted for a time, could probably be considered his two mentors.
A few years after his artistic success at the Whitney exhibition, a play he had written, "Red & Blue," which was a dialogue between two light bulbs, was produced by Joseph Papp at the Public Theatre. Though the play was panned, it established Michael as a certain kind of downtown-uptown, artistic/literary character. This, along with his continuing series of exhibitions at the Paula Cooper Gallery, probably the most widely admired gallery of the 1980s, enabled him to dine out, as one friend put it, on his reputation.
Nine or ten years ago, a few years after his mother died, he seemed to become more unstable. He wrote me a letter telling me that he couldn't be my friend anymore. He said in the same letter that the woman I was seeing then was a good one and I shouldn't let her go. I took both statements seriously even though the former one got me upset.
Then I saw him one day in Florent while I was in middle of lunch and chose to ignore him. He looked around the room and talked to himself. I didn't want to believe he was in psychological trouble, as he was before I met him. He once told me that a nervous breakdown is something you never want to repeat. I got an opportunity to review his last solo show of recent work at Paula Cooper. When I saw him on the street after the review came out, he said, "Well, thank you, but if you didn't know me you couldn't have written it; could you?" I didn't know what he meant but I knew then he was in a bad way; he was trembling and looking around confusedly.
Years earlier, he told me what it was like to have a nervous breakdown. "You can't concentrate on anything, like money, for example," he said, "You just hand bills over without looking at them when you need something and put what they give you back in your pocket."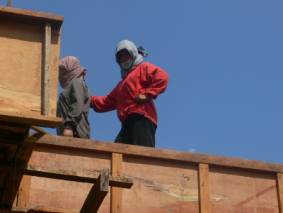 May 19
After continuing to plug up all the entrances I see that it is possible for the rat to get in along an entire run of the roofline, and I realize that I will never completely succeed in keeping him or any others out of the house. I can only insure that they do not take up residence.
In the J.F. Powers story "Prince of Darkness" it is revealed that when a priest is advanced they call it going from mouse to rat:"He wanted to know one thing: When would he get a parish? When would he make the great metamorphosis from assistant to pastor, from mouse to rat, as the saying went?"
I haven't seen any activity, but there are still traces of some scat downstairs in the mornings. I gave up and I decided to bail out of Phnom Penh slightly early. The owner, Stephane, is returning on the coming Monday. I booked a flight to Saigon that departs the morning after his return and another round trip flight from Saigon to Phu Quoc Island the following day. I will go to a beach that I know well for a few days before the brief return to New York.
May 14, 2007
Monday: Another stretch of holidays. This week they are attached to the celebration of the King's birthday. This past Saturday I rode south from Phnom Penh in an SUV with air-con and Miles Davis playing. We were making time, moving aggressively, passing bicycles, buses and motorcycles on a two-lane highway through the countryside. Two men, two women, two nannies (two more women), and two children were in the vehicle. We arrived at the past and present resort of Kep after four hours. A winding road hugged the stone wall that followed the shoreline; the waves were sluggish and tan, it was overcast and near dusk. "White people," tourists, began appearing, walking along the road, with that overly content smile they all wear. Brand new hotels were situated every half-kilometer, but we just as often passed the burnt-out ruin of an older villa or modernist hotel structure that had been left from an earlier era.
The area was a Khmer Rouge stronghold and the Vietnamese had a tough time pacifying the region. They had to scorch everyone out in the end. At that time, the Vietnamese appropriated a large island off the coast that they have kept to this day. We parked the car and arranged for a boat to take us out to a smaller Cambodian island called Rabbit Island, about a 25-minute boat ride away. There were half a dozen fishing vessels, long, with high curves, bouncing alongside the jetty. One was chosen for us. The boat had a single cylinder engine tied onto a board with rope. A long metal stem was attached to the motor. It had a small propeller on the end that the boatman dipped into the water. We made for the island, bumping the waves.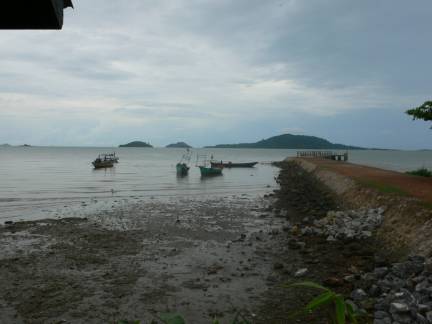 We landed in the center point of a dirt-colored beach lined with coconut trees about a half-kilometer long. There were seven families that lived on the island and each had a restaurant of sorts more of a snack stand with a cooking area. These were very close to the shore. High platforms, animal height above the ground, served as both counters and places for family members to lie upon and nap. A row of woven-frond huts stood for rent about 50 meters back. A shower area, surrounded by a fence of fronds, was situated between the huts and the beachfront kitchen. One of our party had been coming here for years, and we stayed with the people he always stayed with.
There were several families, all working and cooking and hanging out, all island people, and lots of animals. Scrawny chickens strutted around pecking at the ground and half a dozen dogs, the pups barking indiscriminately, chased themselves in figure eights. Two huge pigs lay in the dirt, waiting for scraps. A number of cows and a bull grazed across the property, from the edges of the beach back into the depths of it, near the privy. All the way back, 200 meters from the beach, a path wandered off to where the jungle hills began to rise. Between here and the bay was a newly-built, wooden guesthouse, so instead of getting individual huts they put us all in one house. We had separate rooms in this freshly painted traditional house, half a story above ground.
In the extended family, I could never figure out just who was with whom, but there were four or five young, screaming children with no pants and dirty faces underfoot at any given moment, and one muscular, very dark man with a thick black bowl haircut who smiled at me and said "Hello" all the time. The women stayed around the cooking area and talked in high-pitched voices at one another. It was a matriarchy. The grandmother was very elegant, and authoritative, and in charge, and showed us the rooms. The towels were the standard cotton Cambodian checked scarves that are used for everything; Mama had one piled on her head. The beds were up on platforms (one to a room), and consisted of a foam rubber pad with a clean sheet, a tiny pillow, and a mosquito net. The house was partitioned off into 10 rooms with tiny padlocks on each door. As it got dark, the generator started up. There were fluorescent lights in the common area of the guesthouse and also down around the kitchen, and a light came from the privy in the back. Most of the surrounding land was in darkness, but I had my pocket flashlight with me and was able to avoid stepping in the cow paddies that were generously spread throughout the grounds.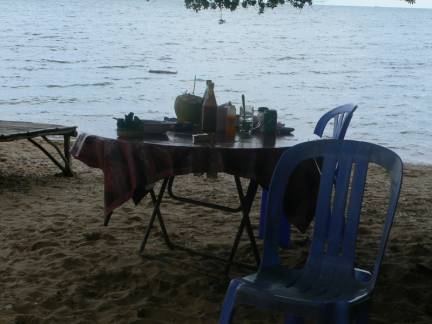 I took a shower, which consisted of pouring a plastic bowl of water over my head, soaping up then rinsing (in Indonesia it's called a mandi, I remember) before dinner: large plates of squid cooked three different ways with onions, with vegetables, or with pepper. We passed around a large bowl of rice. Behind the kitchen, the supplies from land salted snacks, gum, biscuits were hung in large plastic bags out of reach of the animals. I bought a plastic bag of commercial chocolate cookies for dessert. The dogs were accustomed to being given scraps from the table and were rubbing around underneath. I went back to the guesthouse. It had been drizzling for a few hours by then and the grass was slippery and the path was muddy.
My muscular friend had cut his foot. He mimed the splinters in the floorboard, and seemed to want to know if I had any medicine. I realized I didn't have any first aid with me, had not planned on a trip like this, and shook my head. He found a piece of lemon rind and rubbed it on the cut. The next day, he was walking around cured. I was trying to read in the common area of the guesthouse, and he brought me a small battery with a fluorescent light attached. We strung it up next to my bed, and when I completed the circuit by attaching the clamps to the two poles of the battery, I had a reading light.
That was probably the night I was re-reading the stories of J.F. Powers. Though he almost always writes about priests, I don't consider him any more of a Catholic writer (meaning someone whose works contain particularly theistic spiritual lessons) than I do Anita Brookner, who is a transplanted French Jew and an avowed atheist. What they have in common is intensely, accurately observed narratives about characters with boring lives. Powers writes almost exclusively about the petty frustrations surrounding life in mid-western rectories. I came back to the stories that evening for escape. I was frustrated with my increasingly drunken companions, with the increasing rain, and with the accommodations, which weren't so much primitive as they were dangerous. I had two weeks left of my Fulbright obligation. I was a "short-timer," acutely aware of the wobbly step of the guesthouse, the slippery turf at night, the shard of glass I saw on the beach as soon as I stepped from the boat. I was ready to finish up my time in Asia and get back without further infection or accident.
I was glad I brought the Powers book because I could crawl inside it. I completely trusted the writing. Art as a place where one can dwell when there is no real home on earth. If there is any spirituality in Power's priests, it exists as the very last ember where one assumes there was once fire. Like how people who have been through Buddhist training and have done their hundred thousand prostrations, etc. are finally deep inside the mundane. In Richard Gilman's Faith, Sex, Mystery, a remarkable book about his temporary Catholic conversion (among other things) he begins to become disillusioned as he meets priests who are completely caught up in building drives, and the day-to-day problems of running a parish, and who have no curiosity about the finer points of theology. These are the priests in Power's books. One in particular, Father Burner, is overweight and well into middle age and is still the assistant pastor to an old Monsignor who makes his life miserable. He drinks beer and kicks the cat.
Father Burner, lips parched to speak an unsummonable cruelty, settled for a smoldering aside to the kitchen. "Mary, more eggs here."
A stuffed moose of a woman with a tabby cat face charged in on swollen feet. She stood wavering in shoes sliced fiercely for corns. With the back of her hand she wiped some cream from the fuzz ringing her baby pink mouth. Her hair poked through a broken net like stunted antlers. Father burner pointed to the empty platter.

The kid in the room next to mine, separated by ¼ inch of plywood, started crying for his mommy, who was down on the beach with her friends. The nanny did her best with him but it went on for an hour. I finally fell asleep shortly after he did and had a long dream about someone that I didn't like. Later, I was awakened by the party that had moved up onto the porch of the guesthouse. I had a few words with them and then it was morning.
The cove had small waves and I discovered that it never got much more than waist deep, no matter how far you went out. The day was spottily sunny, clouds formed a gray cover by the afternoon. By this time, boats full of people began to arrive on the island. It was a holiday weekend, with the King's birthday on Tuesday. All along the narrow beachfront were groups of ten and twelve, singing, horsing around, yelling at each other, taking group photos. Most of the daytrippers were Cambodians, so they went in the water with their clothes on bathing suits are still considered improper. At one point I heard a thumping bass line down the far end.

It started to drizzle. It remained a raucous day, between the holiday makers, the screaming children, the animals that liked to chase each other up and down the beach (dogs after cows, prancing and playful, something I had never seen before) and the women by the cooking stoves, continuing to yell at one another in their nasal high-pitched voices. I stared at the dusk feeling a weird combination of contentment and irritation. But I arranged to leave in the morning.

Evening came, and many of the visitors decided to stay. Some of my party had gotten up to take a boat back to town for more booze. The rain was increasing and it was slippery everywhere in the compound. There were fires going, some burning garbage, and some burning coconut husks. I went back to the guesthouse and members of the family and their friends were gathered underneath, playfully talking and playing games while listening to Khmer radio. Back down at the beach we had very good local crabs for dinner while a large group directly behind us sang songs to the accompaniment of a ukulele.

At six in the morning I put on my final set of fresh dry clothes and took the boat back to the mainland. The sea was choppy and threatening and I was soaked through within minutes. The bus back to Phnom Penh was lovely; it was a dusty broken down bus so there was no music. I got back to the house and there was a note from the housekeeper saying that she would be off until Thursday, for the holidays, and a note from the people that stayed here saying that they had seen a rat. I thought I had successfully blocked him out; I hadn't had a sign of him for two weeks. I went down to the riverfront and was sickened by every jaunty young Aussie girl in a sun cap, every 60-year-old Caucasian man with his 17-year-old Cambodian girlfriend, every 25-year-old Caucasian man on a muddy off-the-road-motorcycle riding with a Cambodian girl on the back and every kind-faced, gone-to-baggy-flesh-at-the-midriff, fanny-packed children's aid worker. I wanted to kill them all, and for some reason my jaw was staring to hurt.